You may sometimes want to exchange your favorite apple juice for some useful substitutes in your recipes. 
Though apple juice is a popular choice for numerous mouthwatering dishes like meat curry, grilled meat, sauce, fruit salads, ice cream, slush, etc.
It is wise to have some substitutes available in your kitchen because you never know when you are going to need them.
In this article, we are going to reveal some ingredients that work fine with the recipes you would other times make with apple juice. 
Let's read on.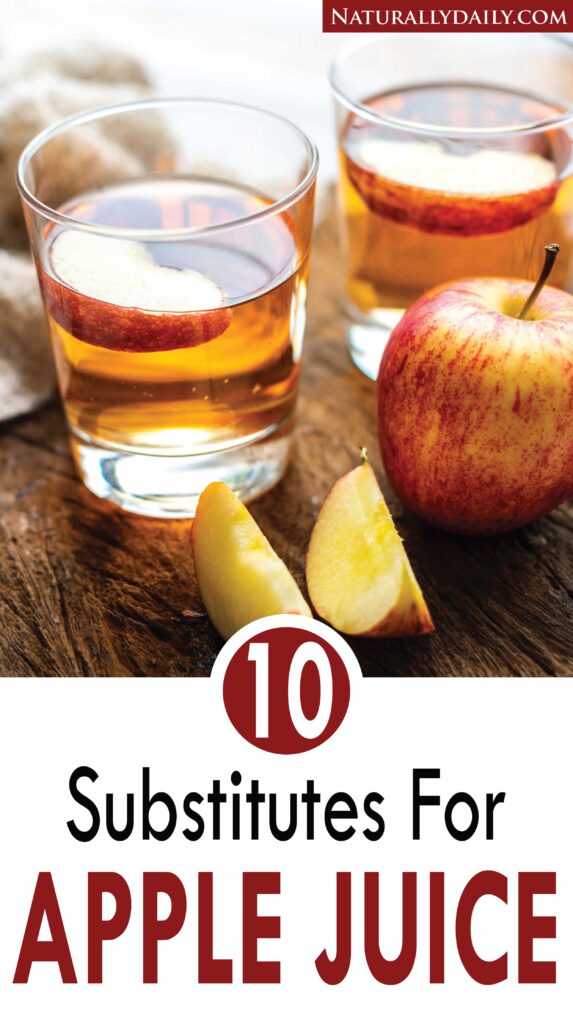 Swap Your Apple Juice with These 10 Substitutes
1. Apple Cider
Cider is a popular alcoholic beverage, but Apple cider is the fresh apple liquid made by crushing the apple. Therefore, it is a similar ingredient to apple juice. 
The difference between these two is that apple cider is the fresh and pulpy juice made by crushing or pressing sliced apples, whereas apple juice is the processed liquid that is thinner and free of pulp.
Both apple cider and apple juice are now manufactured and marketed commercially around the globe.
You can certainly use apple cider in many delicious food recipes like sweet potato, roasted vegetables, salad, sauce, beef stew, chicken casserole, fish, seafood dishes, and many more.
You can make many desserts with apple cider, such as cider pie, cider cake, cider dessert sherbet, cider pudding, etc. 
Apple cider is a healthy ingredient that benefits the heart and digestive system. In addition, a glass of fresh-pressed apple cider can offer you zero fat, zero cholesterol, minimal sugar, and a fair amount of calorie intake.
Regularly drinking apple cider or eating it with other foods may reduce the risk of chronic diseases like cardiovascular disease, cancer, and asthma [1].
2. Pear Juice

Pear juice could be an excellent choice to substitute for apple juice. You can intake pear juice as a single beverage or mix it with apple juice or other ingredients to increase its taste and nutrients.
Pear juice offers you pectin, which is a soluble fiber. This fiber helps move our foods in the digestive tract, which ensures absorbing the food nutrition and clearing the toxic materials easily off our body.
Due to its sweetness, you may use pear juice to make some dessert items. But mostly, pear juice is preferable by most people as a drink for its quick and healthy benefits.
Pear juice can be interchangeable with spinach, cucumber, apple juice, or ginger. These are healthy drinks that can improve your digestive system and reduce constipation.
Like other fruit and vegetable juices, drinking pear juice can protect you from chronic inflammatory pains of sinusitis, asthma, and arthritis [2]. 
Pear contains vitamin A and C, flavonoids, and antioxidants, which fight against your body's free radicals and prevent cancer [3, 4]. 
It could also be a healthy weight-loss diet as it provides your body with slow-to-absorb fibers and makes you feel full for a certain period of time in a day.
3. White Grape Juice
White grape juice is something that you may keep in your kitchen as a common ingredient or simply as a beverage. 
This simple drink may serve you as a substitute in some dishes for apple juice.
White grape juice is sweet, punchy, and nutrient, which you can add to many tasty cuisines instead of apple juice.
White grape juice is also used as a substitute for wines to put the alcoholic booze out of the dishes. 
Some beautiful dishes to which white grape juice can be added are almond turkey, baked vegetables, golden wardens, hot German bean salad, etc. 
White grape juice can be a great source of vitamin C, carbohydrates, iron, and low-calorie intake.
4. Pineapple Juice
Pineapple juice is a common drink you may only take as a refreshing beverage. But this juice can do excellent in making some regular dishes like pancakes, chicken, turkey, etc.
Pineapple juice will give your snacks a sweetish-sour taste, while you can add it as a sweet-tangy taste to your poultry dishes. It makes the dish aromatic and works as a great appetizer.
If you run out of apple juice or want to avoid the liqueur taste of wine from your food, you can easily opt for pineapple juice. 
Pineapple juice will prove useful in making grilled chicken, beef or lamb, and steak while adding a sharp and tangy taste to various chutneys. 
Pineapple contains fiber, beta-carotene, and vitamin C. Drinking pineapple juice can protect your body, especially children, from viral and bacterial attacks and enhance your immunity [5].
Beta-carotene in pineapple may protect you from various cancers [6]. In addition, the fiber in pineapple can boost your digestive system.
5. Orange Juice 
If you run out of apple juice, don't worry. Instead, take the orange juice and use it in your tasty dish recipes.
The tangy and sweet flavor of orange varieties may work as a taste-enhancer in your dishes. 
You should apply orange juice in the final minutes of cooking to keep the food aroma fresh and punchy.
Orange juice can be added or topically applied on cakes or puddings. With this citrus ingredient, you can make a mouthful cuisine of grilled shrimp, steak, salad, etc.
Orange juice mostly contains water, vitamin C, and little fiber [7]. Drinking orange juice can make your skin, heart, and digestive system function properly.
6. Cooking Oil
The most common thing to use in your recipes for cooking is cooking oil. And this can fairly substitute apple juice in cooking.
Cooking oil is the animal, vegetable, or synthetic fat processed to cook, fry, or baked foods.
There are several varieties of cooking oil you can choose for making dishes. But you should choose those that are healthy and make your dishes delicious at the same time. 
Among various oils, olive oil or extra virgin olive oil is preferred by most cooks and health experts for cooking. This is because it has monounsaturated fatty acids and some polyunsaturated fat, which ensures a healthy heart [8].
You may opt for other nutrient vegetable oils, coconut oil, peanut oil, or walnut oil, serving your dishes just the proper blend of ingredients you need.
7. Corn Syrup
Corn syrup is an ingredient you should use moderately in your dishes if you need to substitute apple juice.
Corn syrup can substitute for apple juice in sweet dishes like baked cakes, cookies, ice pops, ice creams, candies, sauces, caramel syrup, etc.
It helps keep the ice cream or candy sugar stay smooth and away from recrystallization when refrigerated. 
You should be aware that overconsumption of corn syrup can increase the sugar level in your blood because manufactured or processed corn syrup contains fructose in high amounts.
8. Chicken Broth
You often find chicken broth in your fridge as a spare or leftover ingredient- and mostly, this works as a savior!
Chicken broth is a favorite ingredient of many to make various delicious soups in winter. While apple juice can make a range of soups if mixed with proper spices and vegetables, chicken broth is the main ingredient in soups.
Chicken broth is made from the fleshy part of the chicken while mixed with black pepper, onion, and bay leaves to add a spicy fragrance.
The varieties of soups chicken broth can make are tortilla soup, rice & lemon soup, egg drop soup, noodle soup, etc.
All these soup dishes are tasty and nutrient, and mostly, they fulfill your appetite.
9. Milk
Don't fret if you haven't apple juice to make a delightful cream roll, sausage, casserole, or soup for your family or guests. 
In this situation, the commonest stuff in your fridge, the milk, will work as a fantastic substitute for apple juice. 
For cooking and baking, non-dairy milk is preferred over dairy milk. Non-dairy milk is healthier than dairy milk because they come from many nutrient vegetables.
There are several non-dairy milk varieties you can use. Soy milk, almond milk, rice milk, cashew milk, flax milk, and hemp milk are among them.
These milk varieties can help you make mouthwatering dishes like vegan buttermilk biscuits, chicken tofu, strawberry smoothies, mushroom soup, sauce, broccoli cheese pasta, and many more. 
Milk can make your soup creamier, sauces smoother, and casserole moister. Not to forget milk's role in making your desserts more delicious.
Non-dairy milk can provide your health with calcium, magnesium, zinc, potassium, and other nutrients [9].
10. Honey 
One of the most scientifically proven nutritious foods, honey, can make your day in almost any recipe, from a quick breakfast to a grand dinner. 
Though many would prefer unprocessed pure honey over processed ones for substituting apple juice, both can work just fine on your dishes.
Drizzle some honey on your morning toasts and make a yummy and finger-licking breakfast for you and your family. 
Honey can also be used in grilled meat, baked muffins, green salads, roasted honey chicken, tofu, etc. 
Adding honey to your dishes may deliver you some health benefits like reduced stroke rate, increased antioxidant value in blood, reduced risk of cancer, etc. [10]. 
Regular intake of honey with other foods may help in diabetes control, cholesterol check, and cold prevention [10]. In addition, pure honey will make your body warm if taken alone by mouth.
Endnote
Apple juice is a valuable food ingredient and a wonderful healthy drink in your daily life. Still, sometimes you may need to switch to other alternatives that are suitable and healthy.
If you use any of the above substitutes from the market, check their labels to know their ingredients. In addition, it is wise to consult your doctor or health practitioner to know the limit of using these substitutes. 
Overconsumption of these substitutes will prove unhealthy no matter how good they are.
Try to find out some more alternatives for apple juice, so it makes your kitchen days less hassled.