Raven essential oil is a unique blend of five different essential oils. They are ravintsara, peppermint, lemon, eucalyptus radiata, and wintergreen essential oils. 
Raven essential oil comes with a fantastic, minty eucalyptus aroma. It is an energizing essential oil. It may also aid in respiratory function and support your immune system.
There's no research conducted on the raven essential oil. But, the essential oils used to make this blend are rich in therapeutic properties. These essential oils make raven a good choice for topical and inhalation use.
Read on to learn about raven essential oil's potential uses, benefits, and side effects.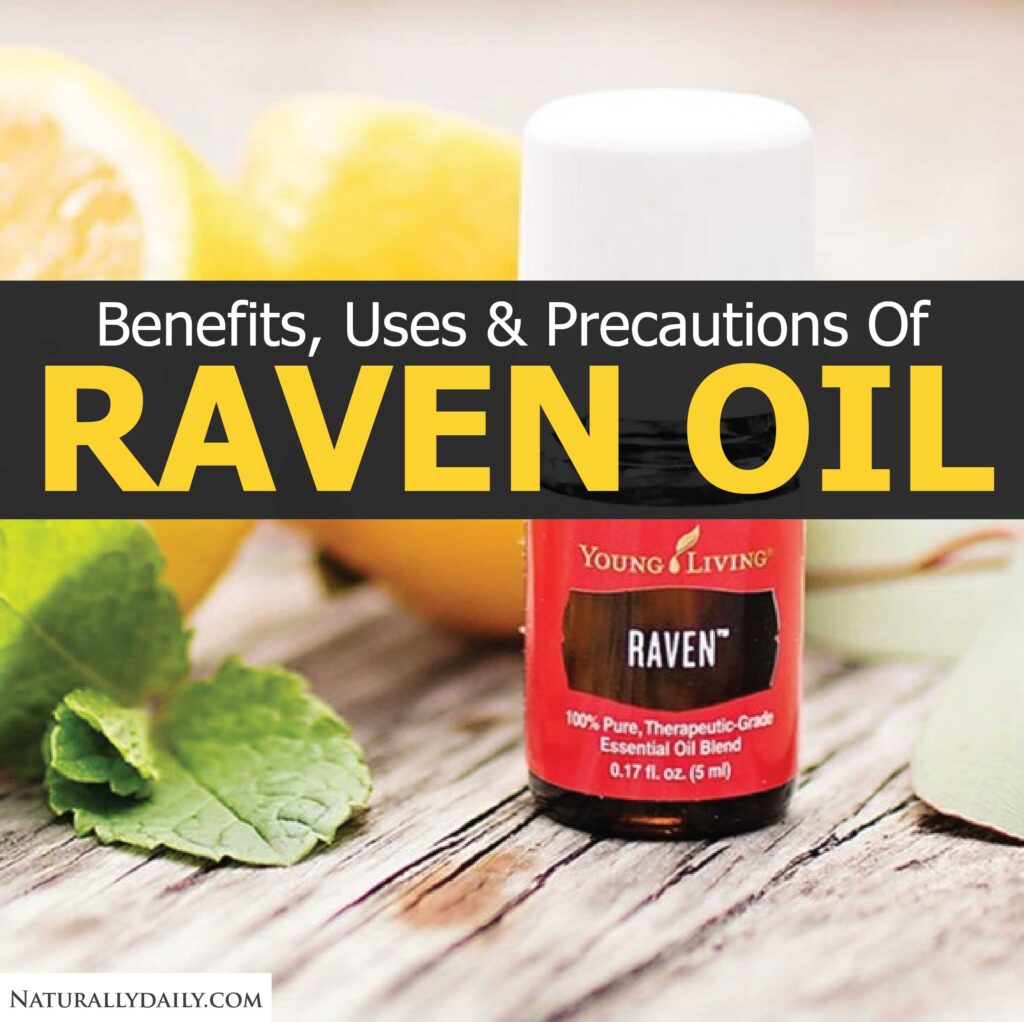 Therapeutic Properties of Raven Essential Oil
The properties of raven essential oil are due to the essential oils used to create this blend. Below are critical properties of the essential oils used:
Ravintsara Essential Oil (Cinnamomum camphora): This essential oil originates from the Camphor tree of Madagascar. It contains analgesic, anti-inflammatory, anti-allergenic, and anti-rheumatic properties, etc. ravintsara oil is quite famous for calming the nerves. [1]
Lemon Essential Oil (Citrus Limon): Lemon contains 68% of d-limonene, which is a powerful antioxidant. This essential oil possesses cleansing and purifying properties. It may help lower the cholesterol level. [2] 
Peppermint Essential Oil (Mentha Piperita): Peppermint essential oil is famous for supporting proper digestion. It is a popular remedy for irritable bowel syndrome (IBS). [3]
Wintergreen Essential Oil (Gaultheria procumbens): Wintergreen essential oil consists of 85-99% of methyl salicylate. This essential oil effectively soothes tension in the head and muscle after exercise. [4]
Eucalyptus Radiata Essential Oil (Black Peppermint Oil): This essential oil has antimicrobial properties. [5] It can support the respiratory system and ease muscle after exercising. 
As raven essential oil is made of these oils, it also contains many therapeutic properties.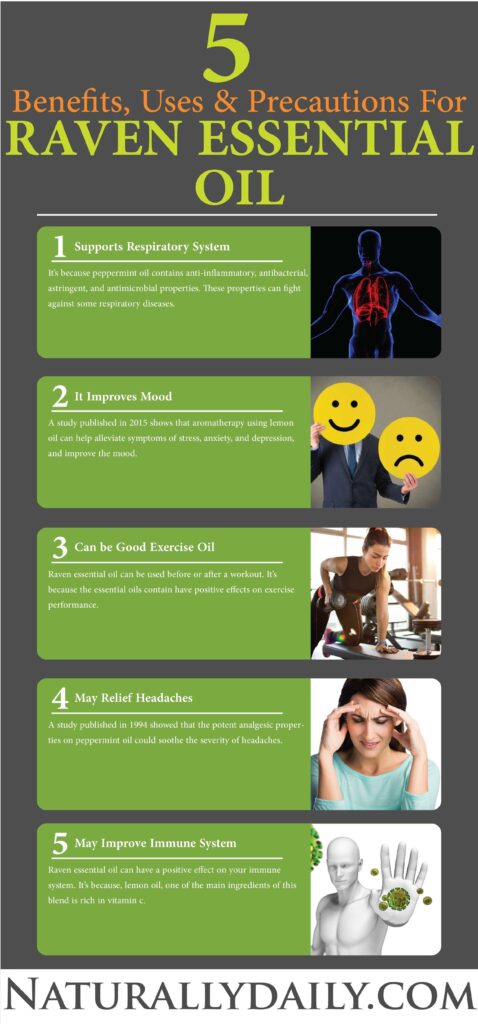 5 Potential Benefits of Raven Essential Oil
1. Raven Essential Oil Supports Respiratory System.
Raven essential oil may help relieve respiratory problems like colds, coughs, bronchitis, sinus, etc.
Peppermint oil contains anti-inflammatory, antibacterial, astringent, and antimicrobial properties. These properties can fight against some respiratory diseases. [6]
2. It Improves Mood.
Thanks to lemon oil, Raven essential oil can effectively reduce stress, depression, and anxiety. 
A study published in 2015 shows that aromatherapy using lemon oil can help alleviate stress, anxiety, and depression symptoms and improve mood. [7]
Another study shows the positive effects of lemon oil on mood and the immune system. It also reports that lemon oil can eliminate the need for an antidepressant. [8]
This oil may help you release negative emotions such as sadness and grief.
3. Raven Essential Oil Can be Good Exercise Oil.
Raven essential oil can be used before or after a workout. It's because the essential oils contain positive effects on exercise performance.
A study published in 2013 demonstrated the effects of peppermint oil on workout performance. Twelve male students attended the trial. They received 500ml of mineral water containing 0.05 ml of peppermint oil. [9]
After ten days, participants experienced bronchial smooth muscle, better ventilation, and brain oxygen concentration. [9]
4. It May Relief Headaches.
Raven essential oil is known to soothe headaches. 
A study published in 1994 showed that peppermint oil's potent analgesic properties could soothe headaches' severity. [10]
Other oils used to create this blend also positively reduce pain and headaches.
5. Raven Essential Oil Improves Immune System.
Raven essential oil can have a positive effect on your immune system. It's because lemon oil, one of the main ingredients of this blend, is rich in vitamin c.
In a study published in 2017, researchers proved the efficiency of vitamin c in improving the immune system. [11]
Vitamin C is a potent antioxidant. It can fight against some pathogens. It can contribute to the immune defense. [11]
How to Use Raven Essential Oil
There are several ways to use raven essential oil:
Topical Application:
Dilute a few drops of raven essential oil with V-6. Apply this oil to your feet as a part of your bedtime routine. You can also rub it on your back and chest to aid in deeper breathing.
Inhalation:
You can directly inhale this essential oil from the bottle for a refreshing respiratory experience. You can add some raven essential oil into a diffuser and let the aroma spread throughout your home.
Bath:
Add a few drops of raven essential oil into your bath water. Soak yourself in for a refreshing experience.
Safety Precautions While Using Raven Essential Oil
As raven oil is a blend of five essential oils, there can be minor side effects. It would help if you took the following precautions while using this oil:
Raven oil may irritate the skin. Always dilute this oil before topical application.

Do not use a raven essential oil on children. This oil contains wintergreen essential oil that isn't suitable for children.

Read the label carefully before purchasing this oil.

Pregnant women and breastfeeding moms should consult a doctor before using this oil.

If you're under medication, ask your doctor before using raven essential oil.
EndNote
Raven essential oil is a unique blend with an excellent, minty eucalyptus aroma. It provides a comforting sensation when applied to the chest or diffused for aromatherapy.
This essential oil is only for external use and should not be used on children. Always store this oil in a cool and dry place. Also, make sure you're buying this oil from a renowned supplier.
Raven oil contains the therapeutic properties of all the essential oils used to create it. Similarly, this blend may not suit you if you're allergic to any particular oil here.
If you're new to essential oils, talk to your doctor or a professional aromatherapist first. Then, use these oils under proper guidance to make them work for you.
Read Next: 7 Amazing PanAway Essential Oil Uses & Benefits