Milia are small, dome-shaped, white bumps that usually appear on the face, eyelids, lips, and cheeks. This condition may appear in people of any age and ethnicity but mostly happen in newborns. [1]
Milia happen when keratin, a strong protein typically found in skin tissues, hair, and nail cells, gets trapped under the surface of your skin. Although they are not itchy and painful, they can sometimes cause children discomfort.
Natural ingredients like essential oils have antioxidants and other medicinal; properties that are good for the skin. These therapeutic oils may help reduce milia symptoms without any side effects.
Read on to learn more about the essential oils for milia and how to use them.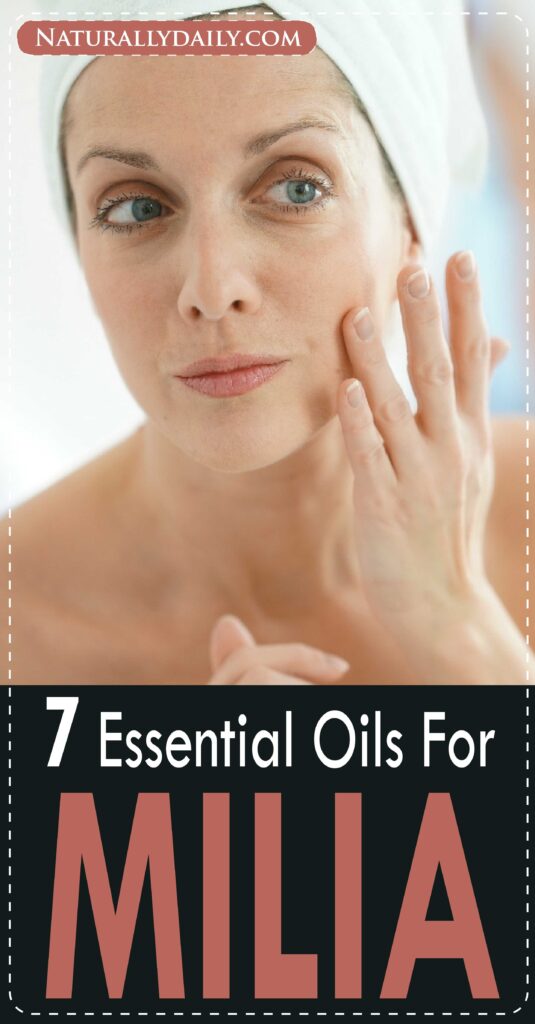 5 Best Essential Oils for Milia
1. Frankincense Oil
Frankincense essential oil is a potent antibacterial and disinfectant agent that benefits the skin. 
Its astringent properties help regenerate skin cells and may reduce the symptoms of milia. [2]
Research published in the Journal of Traditional and Complementary Medicine states that frankincense oil has a soothing effect on the skin and can prevent irritation. [3]
Burn injuries or some other skin injuries may lead to milia. The olibanum component of frankincense oil can treat those burn injuries, thus helping prevent milia. [4]
2. Carrot Seed Oil
Carrot seed oil originates from the seeds of the Daucus carota plant through steam distillation. 
This essential oil is a potent antibacterial, antifungal, antioxidant, and anti-inflammatory agent that provides numerous benefits to the skin.
Its antioxidant properties can avert oxidative stress and promote skin healing. Besides, it can make the smooth by aiding in cell regeneration. [5]
3. Tea Tree Oil
Tea tree essential oil contains powerful properties that treat various skin conditions, including milia.
The oil has antibacterial properties that help treat any wound that may lead to milia. It can also be an excellent treatment for fungi. It can do so by maintaining a healthy balance in the skin flora. [6, 7]
The anti-inflammatory effects of tea tree oil can help soothe irritated skin.
4. Lavender Oil
Lavender oil is considered one of the best options for treating various skin conditions. 
It contains regenerative, antiseptic, and anti-inflammatory components that help eliminate dry and cracking skin.
Milia may occur due to different kinds of wounds. Lavender oil, with its powerful properties, can promote skin healing and reduce milia's symptoms. [8]
Due to its anti-inflammatory effects, the oil can also treat any inflammation or burn on the skin.
5. Peppermint Oil
Peppermint oil has a cooling and calming effect when applied topically, thanks to the menthol it contains. 
This essential oil is rich in antimicrobial properties, treating various skin diseases and boosting skin health. [9]
Peppermint oil can improve the skin's texture and reduce the symptoms of milia when applied topically.
Some Natural Oils to Treat Milia
6. Castor Oil
Castor oil is rich in antibacterial properties that can help treat different skin issues and nourish your skin.
Its emollient and anti-inflammatory properties can help fight milia and reduce its appearance. [10]
Castor oil can prevent your skin's dryness by regulating oil production.
7. Coconut Oil
Coconut oil is a kitchen staple that is extremely beneficial for your health and skin.
This oil's anti-inflammatory and moisturizing effects can work effectively on Melia lesions. [11] 
Besides, it can keep your skin nourished and soft while reducing the inflammation in the affected area. [12]
Always use virgin coconut oil to get the best result.
Ways of Using Essential Oils for Milia
Take a few drops (preferably 2-3 drops) of essential oils and dilute them with a suitable carrier oil.

Clean the affected area properly.

Apply this oil mixture to the milia-affected area. Leave it for 30 minutes.

Wash off with lukewarm water.
Precautions While Using Essential Oils
Some potent essential oils, such as tea trees, may irritate. Please do not use them without diluting them first, particularly for babies.

If you see any allergic reaction on your Baby's skin after applying essential oils, stop using them, and take your kid to the doctor.

Ask your doctor if essential oils are safe for your baby or not.

Use only therapeutic grade, organic essential oils.
When Should You Visit The Dermatologist?
Milia is usually harmless and can be treated using home remedies. However, you can consult a dermatologist if the symptoms do not go away after a few weeks.
You should ask a doctor before using any home remedies on your child. The Baby's skin is quite sensitive and should be treated carefully.
Your doctor might provide some conventional treatment, which can help treat this condition effectively.

End Note
Milia isn't a life-long problem. It happens mostly in newborn babies and goes away within a few weeks after birth.
Some lifestyle and dietary changes may help you prevent milia from occurring. You should avoid sun exposure and oil-based skincare products to prevent this condition.
It's suggested that you consult with a dermatologist right after you see the symptoms. The doctor can tell you whether it's milia or another harmful skin disease.