Using essential oils for ganglion cysts can be a good choice if you don't want to go for surgery. These oils will make the cysts less noticeable without any adverse side effects.
A ganglion cyst is a jelly-like substance that may occur on your wrists or hands. It may also develop in the ankles and feet.
They appear like round or oval-shaped lumps. The cyst is filled with a thick, sticky, clear, colorless, jellylike fluid. Some cysts may feel firm or spongy. [1]
Ganglion cysts vary in size. It can be pea-sized, or some larger ones could be 2.5 centimeters in diameter.
Cysts may grow on top of a joint or the covering of a tendon. It can be extremely painful if they grow near a nerve. Their position could also cause difficulty with joint movement.
Ganglion cysts are hardly dangerous. The cysts are not cancerous. If your cyst is causing you a lot of pain, then you can remove it surgically. In most cases, the cysts go away on their own. [2]
This article reviews the benefits and uses of some essential oils for ganglion cysts.
8 Essential Oils for Ganglion Cyst Natural Remedy
There is hardly any reason to treat a ganglion cyst because they are not dangerous. But you may want to remove it, as it may seem unattractive. Here are some essential oil recommendations to treat ganglion cysts.
1. Frankincense Oil
Frankincense is a natural anti-inflammatory agent. Its powerful anti-tumor properties make it one of the most effective essential oils.
It may inhibit tumor growth. It is generally used to treat abnormal skin growth and types of cancer cells. [3]
It also has anti-inflammatory and analgesic properties. It may soothe the nervous system. It will decrease the inflammation, eliminating any pain from the cyst.
It is also great for promoting new collagen and speeds up tissue healing. If you ever undergo surgery, then Frankincense oil may help you heal the wound without scars.
How to use frankincense oil for ganglion cyst:
Drop a couple of frankincense oil into the cyst. Massage the area twice a day. You will notice that your cyst has improved.
2. Juniper Berry Oil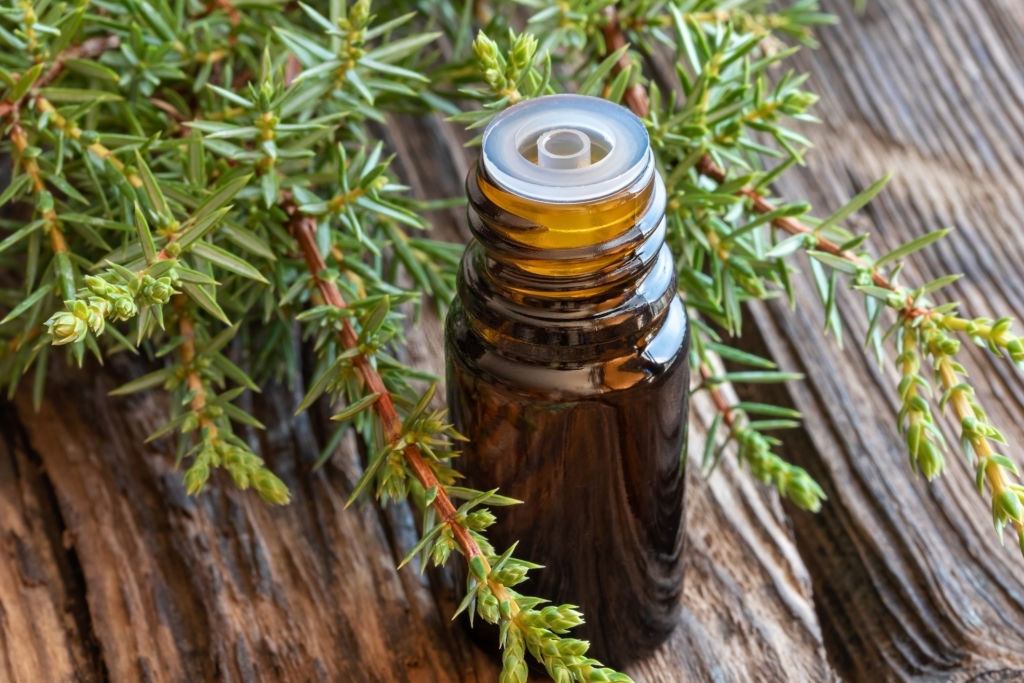 Juniper berry oil comes from fresh or dried berries. It is a potent detoxifier. The oil helps soothe skin flare-ups, helps with insomnia, and aids with digestion.
Juniper berry has antioxidant properties and may speed up healing. It may also boost your immune system. [4]
It can also stimulate the lymph draining process. It will help to drain the lump and become smaller.
How to use juniper berry essential oil for ganglion cyst:
If you want to use juniper berry oil on your skin, first dilute it with a carrier oil like coconut oil. The ratio should be 1:1. Massage the oil on the affected area. The oil will penetrate your skin and pass into the bloodstream. It is excellent for pain reduction!
3. Lemongrass Oil
Lemongrass oil originates from fresh lemongrass blades through a process called steam distillation.
Lemongrass oil is highly anti-inflammatory. It is useful in any case of muscle pain, slack tissue, and poor circulation. It may sedate the pain caused by the cyst. [5]
It also has anti-inflammatory, anti-bacterial, anti-insecticidal, and anti-fungal properties. It is perfect for soothing, relaxing, and stimulating.
Lemongrass oil may also be used in aromatherapy to ease body aches and enhance your mood!
Try this lemongrass oil recipe for ganglion cyst:
Take a few drops of lemongrass essential oil. Apply the oil directly to the cyst and massage gently. The medicinal properties of lemongrass will help reduce the pain associated with the cyst.
READ MORE: Lemon Juice for Acne: 8 Simple Home Remedies
4. Oregano Oil
Oregano oil has anti-tumor properties. It may shrink ganglion cysts.
Oregano oil has anti-inflammatory, antibacterial, and antioxidant properties. It also contains carvacrol and antioxidant phenols which strengthens your immune system. [6]
How to use oregano essential oil for ganglion cyst:
It is better to use oregano oil with frankincense oil. It can give off a burning sensation so always dilute it before using it. Take a few drops of oregano oil with frankincense oil and apply the mixture to the affected area daily.
5. Thyme Oil
Thyme oil comes from fresh flowers and leaves of the herb thyme by the process of steam distillation.
Thyme oil has many health benefits. It has thymol which gives a warm sensation when used with a carrier oil. The warm feeling is very soothing and provides relief from the agonizing aches. [6]
It has antibacterial, antispasmodic, and expectorant properties. It boosts circulation and strengthens the immune system, fights bacteria, and relieves anxiety.
Here's how you may use thyme oil for ganglion cyst:
Thyme oil helps to reduce the appearance of your cyst. Dilute a few drops of thyme oil. Apply it to your cyst. Regular application for a few weeks will bring positive results.
6. Cypress Oil
Cypress oil comes from the evergreen cypress tree. It is quite popular because of its stimulant properties. It has anti-inflammatory, analgesic, and diuretic properties.
Cypress oil may help with the draining of fluid from ganglion cysts. It also alleviates pain and heals infections and wounds on the skin. [7]
Use this oil to remove toxins and lessen respiratory problems. This oil works great for muscle cramps and cellulite and varicose veins.
Learn how to use cypress oil for ganglion cyst:
Apply this oil to the cyst. It will improve blood circulation and drain any fluid in the cyst.
7. Arnica Oil
Arnica comes from the sunflower family. It contains Helenalin which has anti-inflammatory properties. [8]
It has analgesic properties and helps to reduce inflammation. Applying arnica oil to your cyst will cure it within 2-3 days!
How to get rid of a ganglion cyst naturally using arnica oil:
You should dilute the oil before using it. You should apply a few drops of arnica oil to the affected area. Repeat the process twice a day and say goodbye to the ganglion cyst!
8. Tea Tree Oil
Tea tree oil comes from Melaleuca alternifolia. It is a native Australian plant. Tea tree oil may fight bacterial, fungal, and viral infections. It is perfect for boosting your immune system. [9]
How to use tea tree oil for ganglion cyst:
Mix tea tree oil with some carrier oil. Fresh and organic coconut oil will be a perfect choice. You should apply the mixture to the ganglion cyst. Cover it with a bandage. Repeat this procedure until the cyst disappears.
3 Ways to use Essential Oils for Ganglion Cyst
1. Essential Oil Blend
How to use essential oil blend for ganglion cyst:
Take 3 drops of each of lemongrass oil, frankincense oil, thyme oil, oregano oil, and cypress oil. Mix them and add a small amount of fractionated coconut oil.

Put the mixture in a little roller bottle and give it a hard shake to mix it.

Apply the mixture to the cyst 3 times a day.

It will provide a synergistic treatment for ganglion cysts.
2. Oil Pack
Learn how you can use an oil pack for ganglion cyst:
Pour 2 tablespoons of castor oil into a pan and slowly heat it. Add 3 drops of frankincense, cypress, and lemongrass oil to the warm castor oil.

Soak a small piece of cotton cloth in that mixture.

Tie the soaked cloth on your cyst and keep it on overnight.

You can wrap the cloth with a plastic wrap to prevent spills and stains.
3. Massage Cream
Try this essential oil massage cream for ganglion cyst:
Take a quarter cup of shea butter and add 5 drops of frankincense oil with 3 drops of thyme oil and oregano oil.

Put 1 tablespoon of coconut oil in a heatproof bowl and add a quarter cup of shea butter to it. Fill a bowl with a quarter cup of water and put it on the stove.

Balance the heatproof bowl on top of the hot water. The double boiler effect will melt the coconut and shea butter without harming the nutrients in them.

Once the coconut and shea butter are in liquid form, let the mixture cool in the fridge for 15 minutes. After 15 minutes, take the mix out and add 5 drops of frankincense oil with 3 drops of thyme and oregano oil each.

With a hand mixer, mix all the ingredients. Store the mixture in a clean container. Massage the mixture to your ganglion cyst twice a day.
Precautions
Below are some safety tips about essential oils.
Always test a small patch of skin with the essential oil before using it all over your body. You might not know, but you might be allergic to some of the oils.

If you are pregnant or breastfeeding, then consult your doctor before using it.

It is better to use diluted oils on the ganglion cyst.

Be careful around kids and pets while using essential oils.
Final Word
A ganglion cyst is also known as 'Bible cysts.'  They are most common in the female population. About 70% of these cysts occur in people between the ages of 20-and 40.
A Ganglion cyst is very rare in children younger than 10 years. People with osteoarthritis and tendons tend to develop more ganglion cysts than others.
A ganglion cyst usually doesn't need any emergency treatment. But if the pain becomes severe, you may have trouble with joint movement. In that case, you need to see a doctor remove it surgically.
If there is no pain involved regarding your ganglion cyst, then you may opt for natural remedies like essential oils.
READ NEXT: 7 Proven Home Remedies for Cellulitis That Always Work