Arnica Tea is known as the 'healing tea' due to its numerous health benefits.
It comes from the blossoms of a perennial flowering plant called arnica. It is related to sunflowers because arnica belongs to the Asteraceae (daisy) family. The plant is native to Europe. However, arnica is also found in the United States.
Its Latin name is Arnica Montana. But the name arnica comes from the Greek "arna," which means lamb because this herb has soft hairy leaves. You can also find it known as leopard's bane, wolf's bane, mountain arnica, or thunderwort. So many names for one healing herb.
Arnica flower is pale yellow and included in cosmetic and dermatology products. But it comes only in minimal, diluted forms.
People in Europe and North America use arnica tea for medicinal purposes. In Europe, people have been using arnica tea since the 16th century. It can treat digestive disorders, and skin disorders and bring down fevers.
The oil is for external use only because of its toxicity. Direct intake of arnica can cause serious side effects. Homeopathic healers use it in diluted form. The diluted form is not harmful to the body. [2]
This article reviews some evidence-based arnica tea benefits and uses for health, plus the process of making arnica tea and some safety tips or precautions.

15 Potential Arnica Tea Benefits and Uses
1. Arnica Tea Boosts Your Immune System
The antibacterial and antiviral properties of the flower can improve your immune system!
It strengthens your immune system. It also works great for allergic reactions.
Arnica tea could stimulate the production and activity of white blood cells. White blood system handles the body's immune system.
The topical use of this tea can increase bacterial and viral resistance. When applied, it takes around 3 hours for the skin to absorb the tea and disperse it throughout the body.[3]
2. It Prevents Hair Loss
Infections in the scalp and oxidative stress can often lead to premature hair loss.  
Arnica oil is rich in critical nutrients, vitamins, and fatty acids that can boost hair growth. It also protects the scalp against infections and oxidative stress. Thus it can reduce hair loss.
It also stimulates the hair follicles and rejuvenates your scalp. Several conditioners and shampoos use arnica extracts. Arnica shampoos give you soft and manageable hair.
Read More: 15 Essential Oils for Hair Growth and How to Use Them
3. Arnica Tea Helps Get Rid of Dandruff
Arnica oil can protect against inflammatory conditions. It cleanses the excess oil and sebum from the scalp, giving it a natural shine.
It removes dirt and oil from the scalp. It also fights dandruff and reduces itchiness.
Regular use of this tea will prevent your hair from getting tangled and having rough hair.
Read More: 11 Reasons to Use Coconut Oil for Dandruff
4. It Treats Split Ends and Premature Greying
Arnica tea has antibiotic properties. It can cure scalp infections. Arnica tea can strengthen every hair strand. It also helps prevent split ends and premature graying of hair.
Massage arnica tea or oil to your scalp from the roots to the tips before going to bed. Wash the tea off your hair the next morning. It will provide nourishment and necessary nutrition to your hair follicles.
Read More:10 Reasons Why You Should Use Shea Butter For Hair
5. Arnica Tea Treats Skin Infections
Several skin care products use arnica as a vital ingredient. It can help you to get rid of skin problems and improve your skin health.
Arnica in lotions treats eczema, itchiness, and skin infections. You can also apply it to the vagina to treat vaginitis and vaginal irritation.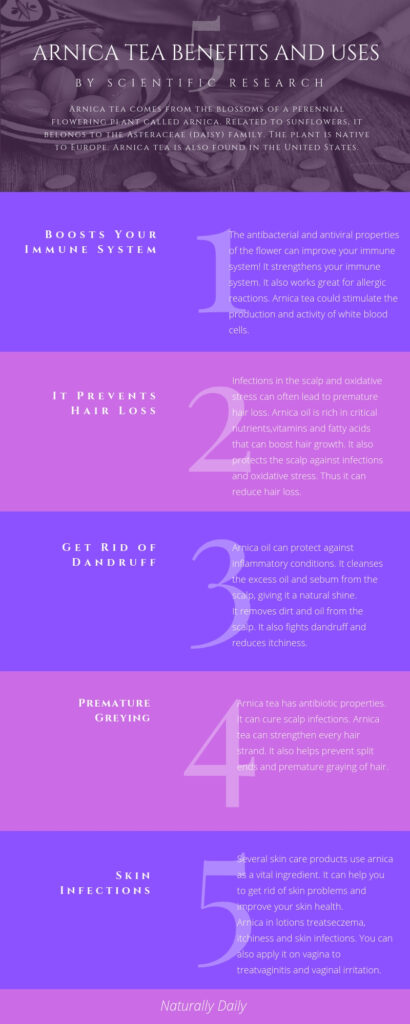 Read More: How to Get Rid of Vaginal Odor Naturally: Try These 19 Ways
6. It Can Treat Frost Bites
Do you have frostbites?
Don't worry!
Ointments meant for treating frostbites use arnica extracts. Applying arnica tea to frostbite areas can improve the condition. [5]
Read More: How to Use Ginger for Acne: 19 Effective Ways With Directions
7. Arnica Tea Nourishes Skin
Arnica can heal bruises, sunburns, minor burns, and superficial phlebitis. It contains compounds like sesquiterpene lactones, flavonoids, carbonic acid, coumarins, and volatile oils. These compounds can renew skin.
It can also boost the healing process. It stimulates the formation of granular tissues. It can heal bruises, sunburns, minor burns, and superficial phlebitis.
The antioxidant elements will prevent signs of aging, such as wrinkles and blemishes.
Read More:6 Essential Oils for Sun Damaged Skin
8. It Treats Stretch Marks
If you had a baby, then you know about stretch marks very well.
Arnica tea can help you in getting rid of those stretch marks!
Apply arnica tea extract to your stomach at least four times a day. In no time your pregnancy-related stretch marks will reduce in appearance.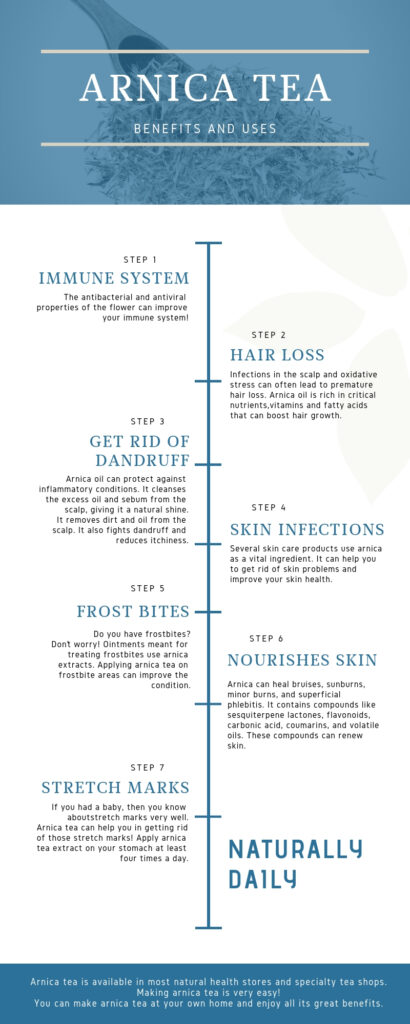 Read More: How to Use Aloe Vera for Stretch Marks with 4 Natural Ways
9. Arnica Tea Relieves Pain
Arnica tea might be the answer to your aching joints and muscles. It provides rapid anti-inflammatory relief and helps in healing.
If you have migraines and headaches, the tea will lessen the pain. Because it has analgesic properties. Apply a few drops on the temples and the base of the neck and get relief from pain.[6] [7]
10. It Reduces Arthritis Pain
Arnica tea has excellent anti-inflammatory properties. Inflammation in joints and muscles can cause arthritis. Arnica tea can stimulate white blood cell production. White blood cells reduce inflammation in joints and muscles.
Research said that the use of arnica decreased pain and stiffness in patients. These patients had mild to moderate osteoarthritis of the knee.[8]
This plant can also improve hand function and decrease pain.
The essence of this plant is especially useful in dealing with rheumatoid arthritis.
Read More: 12 Useful Essential Oils for Arthritis & How to Use Them
11.  Arnica Tea Reduces Stress
Had a stressful day at work?
An arnica tea foot bath can relax you. It has soothing properties. It will calm you down and reduce stress.
You can also massage arnica tea to provide an emotional balance and a sense of tranquillity. It will relax your tight muscles and decrease stress. It is often used to ease feelings of depression and emotional distress.
Read More:12 Essential Oils for Stress Reduction & How to Use Them
12. It Heals Bruises & Injuries
Arnica oil is a natural stimulant. If you have strained muscles and bruises, it can stimulate circulation to those areas.
Apply this tea to areas where you have injuries, and the circulation will increase. It will help to produce healthy new cells and heal broken blood vessels.
You can also use arnica tea as a mouthwash or gargle for treating sore throat and infections.
13. It Has Antioxidant Properties
Arnica tea can boost sesquiterpenes, thymol, and other potent antioxidants. These antioxidants can protect you against chronic diseases and certain types of cancer.[9]
14. Arnica Tea Treats Bruises and Black Eyes
Another great use of arnica is it can help in decreasing the appearance of bruises.
You can also apply it to black eyes to improve the condition.
If you have dark nails due to injuries, then apply this will make reduce the darkness of the nails.
Read More: Coconut Oil for Bruises: 8 Simple Ways to Heal Bruises at Home
15. It Improves Oral Health
Arnica mouthwashes are very popular. Arnica has anti-bacterial and anti-microbial properties. It makes an excellent choice for oral health.
Gargle or wash your mouth to keep your mouth free of microorganisms and bad breath.
It can also reduce wisdom tooth pain, gingivitis, and pyorrhoea.[10]
How to Make Arnica Tea?
Arnica tea is available in most natural health stores and speciality tea shops.
Making arnica tea is very easy!
You can make arnica tea at your own home and enjoy all its great benefits.
Try these methods of making arnica tea:
Take fresh or dried arnica flower or arnica powder. Boil a saucepan of water and add one tablespoon of the powder to it. Allow the mixture to stay in the water for 5-6 minutes. Filter the excess powder and let it cool. Then, apply the tea to your skin.

You can also soak the tea in a cotton cloth and apply it to bruised or wherever you feel pain. If you want, you can add warm water to the tea and can experience a soothing soak.
Some Safety Tips about Arnica Tea Uses
Arnica tea has a lot of benefits, but you must be careful while using it.
Excess or undiluted use can have a lot of harmful effects.
Do not use it on broken skin or an open wound. It can irritate.

Excess use on skin can cause skin rashes.

It can also increase your blood pressure.

Do not use it if you are pregnant.

If you are using it for a long time, then you might have eczema, edemas, rash, swelling, and dermatitis.

Consult your doctor before using arnica tea in any way.
The risk is even higher if you drink it.
It can be toxic to your nervous system as it is poisonous.

If you consume it, then it can lead to stomach pain,

vomiting

,

heart disease

, and dizziness.

Arnica tea can also cause inflammation of the mucous membranes.

Avoid using any arnica if you are allergic to ragweed.

Please do not use it on any children.

Leopard's bane contains a toxin named helenalin, and it is poisonous in large amounts.

If you come in contact with the arnica plant, immediately wash your hands or any part of the body.

It doesn't take long for the tea to be wholly absorbed in the body. So if you don't wash it after coming into contact with the plant, then it might cause internal bleeding.

If you are taking any homeopathy, arnica is an integral part. So do not overlook the recommended dosage.
Read More:13 Proven Homemade Pregnancy Test Ideas That You Can Try
Bottom Line
It doesn't matter if you call it arnica tea or Leopard's bane or Wolf's bane. Its benefits are countless.
Arnica tea is beneficial for treating hair loss, skin inflammation, and infections on the skin. It is also great for arthritis, anxiety, and recovery from illness or surgery.
Do not forget to ask your doctor before you start using it.
Read Next: 7 Chasteberry Tea Benefits & Uses for Healthy Living