Baby acne is quite common among infants and doesn't cause the baby harm. It usually clears up without any treatment. [1] You can also try simple home remedies for baby acne that are effective and harmless. [2]
Baby acne is known as Erythema toxicum neonatorum. It is not a rare skin condition; it affects more than 30 percent of newborns.
It can even appear in babies at birth. But generally, baby acne takes several weeks to develop. [3]
Erythema is a medical word that means redness. Neonatorum means that the rashes appear in the neonatal (the time between birth and 28 days of age). Babies in this age range are called neonates. [6]
Even though baby acne refers to Erythema toxicum neonatorum, the condition is not acutely toxic. Also, it is not the same condition as acne that affects teenagers and adults.
Keep reading this article to learn more about the efficacy and uses of some natural ingredients in treating baby acne. You'll also get to know the causes and symptoms of this skin condition.

Best Home Remedies for Baby Acne
Here are some natural remedies for baby acne that are easy and very effective.
RELATED: 8 Vitamins for Acne Prone Skin That You Should Know
1. Coconut Oil
Coconut oil is a beneficial oil that lots of people have been using for years. It treats various health conditions and is excellent for your skin and hair.
In cases of home remedies, many of us reach for coconut oil for its amazing nutrients.
Coconut oil gets quickly absorbed into the skin and reaches deeper layers. It also contains lauric acid. This acid has antimicrobial properties, and it fights infections.
Coconut oil will also nourish and moisturize your baby's skin and soothe it simultaneously.
This oil is natural, so there are no possibilities of any side effects on your baby. In addition, it is toxic-free and safe.
Coconut oil is also famous as a diaper rash and ringworm remedy.
Here is how you can use coconut oil for baby acne:
First, wash your baby's face with mild unscented soap.

Pat, your baby's face gently until it's dry.

Now take the cotton ball and put some coconut oil on it

Cover the acne-affected areas with

inflammation

  with a light layer of natural coconut oil

Do it daily 2-3 times until the acne fades
RELATED: Coconut Oil for Acne Treatment: 6 Natural Remedies
2. Diluted, Alcohol-free Witch Hazel
Using Witch hazel on your baby's acne can provide a quick and effective solution. If you apply it topically as a baby acne treatment, it can work as a fantastic natural astringent that may help clear the oil from your baby's skin and pores.
Witch Hazel also works amazingly in homemade baby wipes and gives a gentle, natural cleanser.
Directions for using witch hazel for baby acne:
Take some witch hazel in a cotton ball or cotton pad

Wipe it across your baby's face

Apply witch hazel anywhere irritation is experienced

Repeat it up to a few times a day.
It can also work as part of your baby's cleansing routine after you wash its face.
RELATED: Top 10 Essential Oils for Scars: (Bonus! Oil Blend Recipes)
3. Breast Milk
The benefits of breast milk are undeniable. It can help babies in ways you cannot imagine. For example, no matter how strange it sounds, breast milk can help you treat and reduce your baby's acne.
Rubbing breast milk in your baby's face may be unimaginable for the most delicate of you. However, the truth is this simple remedy may be the solution to your baby's acne problems.
Here is why it works:
Breast milk has lauric acid in it. Just like coconut oil, breast milk can moisturize your baby's skin. In addition, the antibacterial properties of lauric acid can fight infections and bacteria.
Besides, breast milk is rich in glyco-nutrients, omega-3-fatty acids, and antibodies. These compounds are useful for exfoliating your baby's skin and removing acne.
How to use breast milk to relieve baby acne:
First, rinse your baby's face with clean water and some milk soap

Take some breast milk into a clean and empty container

Take a cotton pad and apply several drops of breast milk to the areas with acne

Do this a few times a day till you see some improvement in baby acne.
It's important to remember that what you eat will influence your breast milk. So your diet also could be responsible for your child's acne.
4. Apple Cider Vinegar
No matter the question, the answer generally involves apple cider vinegar. Apple cider vinegar is a favorite ingredient in almost all home remedies.
Apple cider vinegar is a popular remedy for acne. It works great on the skin. ACV also works as a skin toner. In addition, it is a probiotic, which means it has helpful bacteria.
Directions for using ACV for baby acne:
Take equal parts apple cider vinegar with water and mix well

Soak a cotton ball in the mixture and take out the access

Apply to affected areas

Then wipe and rinse your baby's face clean

Repeat this process daily
RELATED: How to Use Apple Cider Vinegar for Acne Treatment
5. Honey and Lemon Juice for Baby Acne
Honey and Lemon juice is a popular remedies for acne. People have been using it for generations. Both of these elements have natural anti-inflammatory properties. These properties are safe and effective in treating baby acne.
How to use honey and lemon juice for baby acne home remedy:
Mix 1/2 teaspoon lemon juice and equal parts of honey

Dip a cotton swab into the mixture, then apply it to the affected area

Leave it on for 20 minutes

Wash off using lukewarm water and pat dry

Repeat the process daily, and you should see a result in a week
RELATED: Lemon Juice for Acne: 8 Simple Home Remedies
6. Vinegar Treatment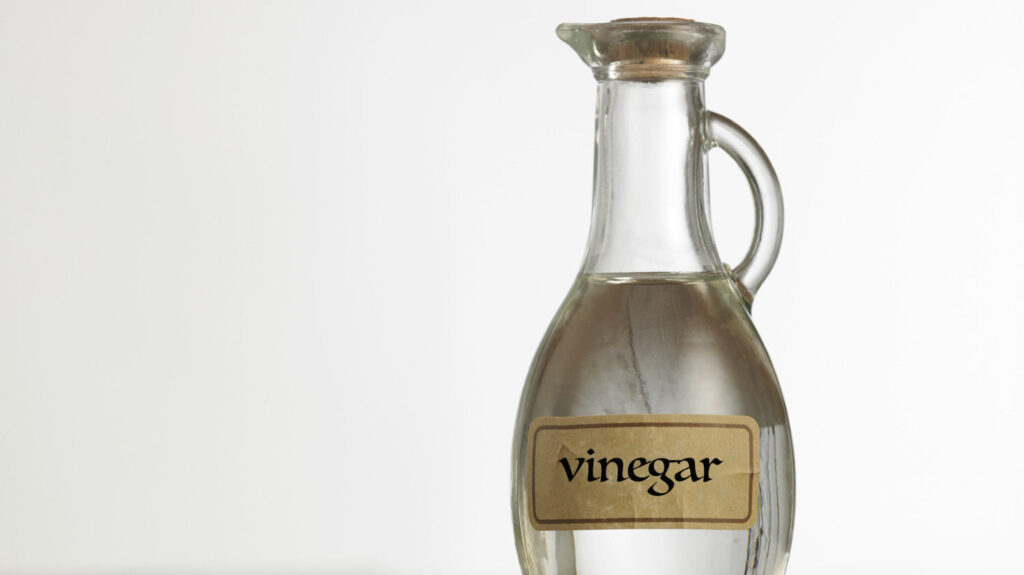 Vinegar is a common treatment for baby acne at home. It is an excellent absorbent for oil. Vinegar also has antibacterial properties.
Due to its acidic properties, vinegar has an antimicrobial activity on the skin. So vinegar is not only it is a potent antiseptic agent, but it also helps restore the pH balance of your baby's skin.
Vinegar home remedy to get rid of baby acne fast:
Take one part of white vinegar and 10 parts of water

Mix it well

Use a clean cotton ball and gently dab the solution onto the affected area.

Leave it for 1 minute

Rinse off  with mild soap and warm water
WARNING: It is important to remember that babies have sensitive skin. So use sparingly and at the beginning to be sure if your baby has any reactions.
Do not use undiluted vinegar on your baby's face.
Vinegar is also used to clean your baby's toys and fabric. It can even treat diaper rash in babies.
RELATED: Aloe Vera for Acne: 5 Effective Ways to Use
7. Aloe Vera Gel
Aloe Vera gel can work great for your baby's acne problems. It can absorb excess oil from your baby's skin. This will save the pores from clogging.
Aloe vera gel contains antioxidants, zinc, vitamin C, and E. This is what gives it its moisturizing properties.
Aloe vera gel can also aid in blood purification. In addition, it helps cell growth to heal the damaged skin.
How to use aloe vera for baby acne:
Peel and aloe vera leaf

Wash it thoroughly to make sure there is no latex left.

Cut it into pieces in a bowl and pour boiling water over it.

Let this boil for 15 minutes.

Let the mix cool for a bit.

Then strain the solution to ensure there are no bits of aloe vera gel left.

Dip a cotton ball into the cooling solution and wipe over the affected skin
This solution can replace your toner as well.
RELATED: 12 Ways to Use Aloe Vera Gel for Acne
8. Neem Oil
Neem oil has antiviral, antibacterial, antifungal, and anti-cancerous properties; that is why it is known as the "panacea of all diseases."
You can use this herbal oil to get rid of baby acne fast.
You can use this oil for the long-term treatment of acne. You won't even have to worry about adverse reactions to the skin
How to use neem oil for relieving baby acne:
Mix and dilute 5 drops of neem oil with 10 drops of almond oil

Soak a cotton swab into the solution

Apply to the affected area

Leave it on for 20 minutes

Wash off using baby soap and water and pat dry

Repeat the treatment daily, and you should see a result in a week
READ MORE: How to Use Argan Oil for Acne & Acne Scars
Causes and Symptoms of Baby Acne
Baby acne is a small red and white bump on the baby's cheeks, face, forehead, or nose. [7]
This condition mostly develops within the first two to four weeks after birth.
As weird as it sounds, hormones are believed to be mainly to blame in case of adolescent acne. [8]
But when it comes to newborns, it's not their hormones that are probably prompting the pimple problems; it's their mother's — which are still circulating in the baby's bloodstream as a holdover from pregnancy. [9]
These maternal hormones stimulate the baby's sluggish oil-producing glands, causing pimples on the chin, forehead, eyelids, and cheeks (sometimes the head, neck, back, and upper chest). [10]
Moreover, the pores in a baby's skin are not yet fully developed, making them easy targets for infiltration by dirt and the blossoming of blemishes. [11]
And babies typically have sensitive skin (some more than others), which can also be a factor.
RELATED: How to Use Argan Oil for Acne & Acne Scars
Bottom Line
Baby acne can be very stressful for the parents, but it is harmless. Newborns get harmless white pimples named milia that go away in a couple of weeks. [4]
Baby acne isn't different than the ones you get when you are a teenager. These acnes are white or red bumps that are surrounded by reddish skin. [3]
Babies get pimples on their cheeks, face, forehead, and chin. But not all the bumps on your baby's face are acne. 
Home remedies for baby acne are probably the best solutions. Choosing natural remedies for baby acne over harsh medicine will benefit your baby's gentle skin the most.
People may use different methods to get rid of baby acne. There are various options for your baby's topical treatment, such as oral treatment, natural herbs, minerals, supplements, and vitamins. So do your homework before you jump into any home remedies. Consult your doctor if you have doubts about natural remedies.
With babies, a little goes a long way. So, test out the remedies in small doses first, then ease into it.
READ NEXT: 10 Effective Acne Home Remedies and Facts You Should Know (Infographics)