Coconut oil is one of the most available ingredients in your kitchen. It is rich in excellent medicinal properties that are good for your health and skin. [1] Some people also suggest using coconut oil for tanning beds.
You are wrong if you think tanning beds are safer than sunlight. You may develop melanoma or skin cancer if you frequently use tanning beds without protection. [2]
Using coconut oil on your skin before you get into a tanning bed can benefit your skin in many ways. First, it has no harmful chemicals, so you can use it without worrying about your skin.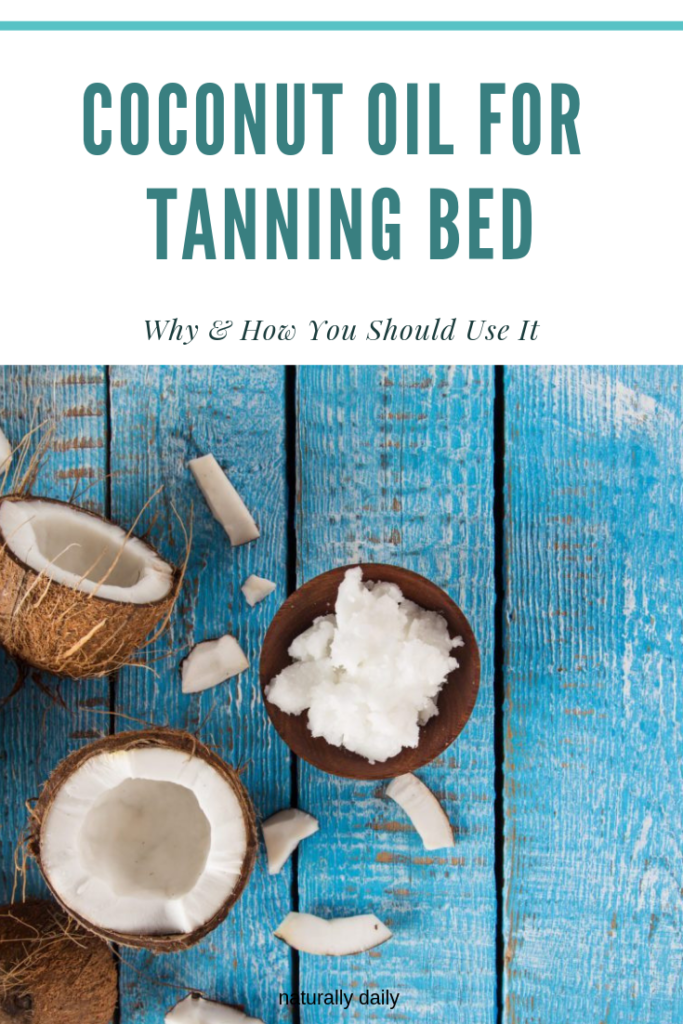 Here are some valid reasons you must use coconut oil for tanning the bed.
Why Use Coconut Oil for Tanning Bed?
1. Coconut Oil is Chemical Free.
Commercial sunscreens, sunblocks, and tanning oils have chemicals like paraben and solvents.
While the SPF in these sunscreens can protect your skin, these harsh chemicals may have some side effects. [3]
The situation may worsen if you have sensitive skin after applying sunscreens or tanning oils.
Coconut oil is 100% natural and contains no harmful chemicals; hence it's entirely safe to use.
Read More: 13 Best Essential Oils for Skin Glow
2. It Nourishes Your Skin.
Unlike many tanning oils, coconut oil nourishes your skin while giving you the perfect bronze.
It comes with natural fatty acids that secure the moisture and hydration of your skin. [4]
Spending many hours in the tanning bed may dry and wrinkle your skin. Coconut oil will provide you with a sun-kissed look without making your skin dry.
Besides the fatty acids, coconut oil also contains vitamin E that, nourishes your skin and ensures that your skin texture doesn't suffer.
Read More: Coconut Oil for Wrinkles: 20 Effective Home Remedies
3. Coconut Oil Protects You from Harmful Rays.
While many commercial salons claim their tanning beds are the safest, think twice before you get into the trap.
As we said before, a study proved that a tanning bed could cause melanoma; you must not get into one without any protection. [1]
Coconut oil nourishes your skin and creates a protective layer on your skin's surface.
Whether you use the oil alone or mix it with other tanning oils, it will help reflect those harmful rays off your skin.
4. It Fights Infections.
Whether lying on a beach or inside a tanning bed, your skin gets exposed to different germs and microorganisms in the environment.
It happens when you're unaware of it, leaving you with a high risk of infections.
Coconut oil is well known for its antimicrobial and anti-fungal properties. It can fight any germs and harmful microbes that wreck your skin, as well as your health. [5]
5. Coconut Oil Soothes Your Skin
Coconut oil can soothe your skin if it gets burned by the sun or the tanning bed.
You may have inflammation due to harmful rays, allergic particles, or even dust if the tanning bed isn't correctly cleaned.
Coconut oil can heal that inflammation. Its antioxidant properties protect your skin from any oxidative and burning damage. [2]
6. Coconut Oil Helps Get a Faster Tan
Are you tired and bored of spending so much time on that suffocating tanning bed to get the perfect tan? Coconut oil can help you with that.
This natural oil gets absorbed into the skin quickly and activates the melanin-producing layer under the surface of your skin.
So, rub some coconut oil and get inside the tanning bed to get your desired tan faster.
Read More: 6 Coconut Oil for Toenail Fungus Remedies and How to Use Them
7. It Makes Your Skin Shiny
If your skin gets exposed to those harmful rays of tanning beds, not only will you develop cancer, but also it will become rough and dull.
You don't get tanned to get dull skin, do you? So, here's the solution.
You can apply coconut oil to keep your skin shiny after getting tanned. However, rubbing coconut oil before you get into the tanning bed will make your skin darker and polished in the long run.
Read More: 6 Essential Oils for Sun Damaged Skin
How to Use Coconut Oil for Tanning Bed
There's a controversy about using coconut oil in a tanning bed. Some say you should use oil inside a tanning bed, while others say you should.
Well, when it comes to protecting your skin, you must use coconut oil as a safe option.
Some spas may not allow you to use oil when you're getting into their tanning bed, saying it will damage their equipment. But you can still use coconut oil on your skin without damaging any of its material.
Before you get into the tanning bed, rub some coconut oils on only those exposed parts of your body that will not touch the plastic inside the tanning bed.

Towel down the acrylic and remove the traces of the body oil when you're done with your tanning. The acrylics are now protected and won't harm any equipment on the tanning bed.

After showering, put some coconut oil on your back and other areas that might touch the plastic. Then, you can tell someone to rub the oil on your back.
You can use only coconut oil or make a solution with other essential oils or herbs from the given options below:
Method 1:
Add 5-10 drops of each coconut essential oil and vanilla essential oil, two tsp of each of sesame oil, walnut oil, and avocado oil in a ¼ cup of virgin coconut oil.

Stir well and pour this mix into an airtight jar.

Apply it before you get into a tanning bed.
Method 2:
Take a ¾ cup of boiled water and place three black tea bags in it. Let them sit for a few minutes.

Take a blender and add a ¼ cup of each coconut oil, lanolin oil and a ¾ cup of brewed black tea and blend them.

Store it in an airtight jar and apply the oil before getting tanned.
Method 3:
Take a saucepan and pour two cups of coconut oil and

olive oil

.

Gently warm the mix and pour it into a glass jar.

Let it cool down, and apply this mixture before entering a tanning bed.
Bottom Line
Getting a bronzy glow on the skin isn't difficult if you can get it right.
A tanning bed is the best option if you don't want to spend time under the scorching sun.
While the tanning bed can harm your exposed skin, you may protect it by applying some coconut oil.
Coconut oil works effectively as a skin barrier and has numerous beneficial effects on the skin.
Read Next: Coconut Oil for Diaper Rash: 5 Easy Home Remedies