Essential oils are quite popular in skincare and for good reasons. Medical research suggests these oils have skin rejuvenating qualities that help reduce the signs of aging, such as deep wrinkles on the face.
As we age, the signs of aging start getting prominent. [1]
Wrinkles are the first thing that you might notice appearing on your face and body. [2]
With age, the collagens of skin start to break down. The elastin fibers lose their stability and get disorganized. [4] This decrease in collagen and elastin causes fine lines and deep wrinkles. [5]
Don't feel sorry for yourself because aging is one of the most natural things on earth, and you can't stop this. 
But with a few simple steps, you may be able to naturally reduce the number of wrinkles or make them less prominent. 
In this article, we are bringing you a list of essential oils for deep wrinkles and methods of using them. [3]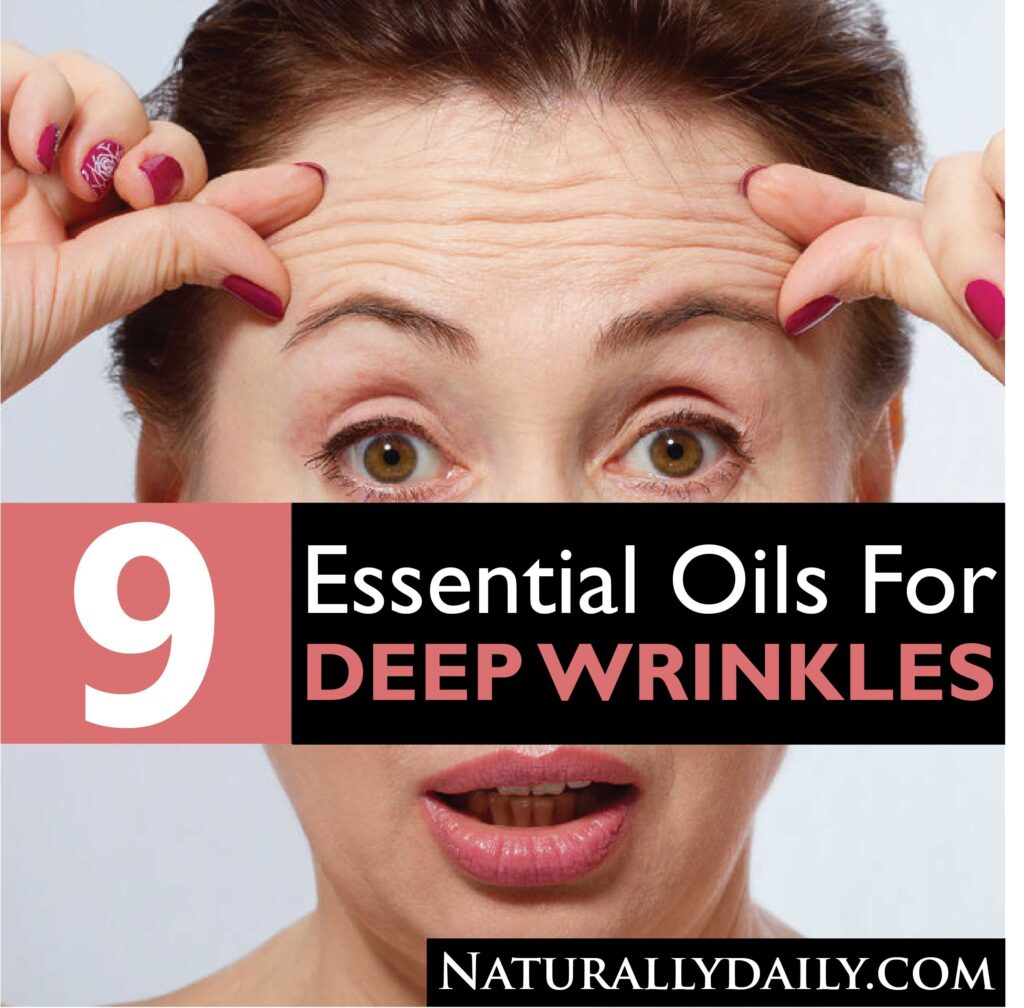 9 Anti-Aging Essential Oils For Deep Wrinkles
1. Frankincense Essential Oil
Frankincense essential oil is very useful for deep wrinkles. [6]
It has a warm and relaxing fragrance that may boost your immune system. The oil has good antioxidants in it that help with the production of elastin. It also boosts your collagens.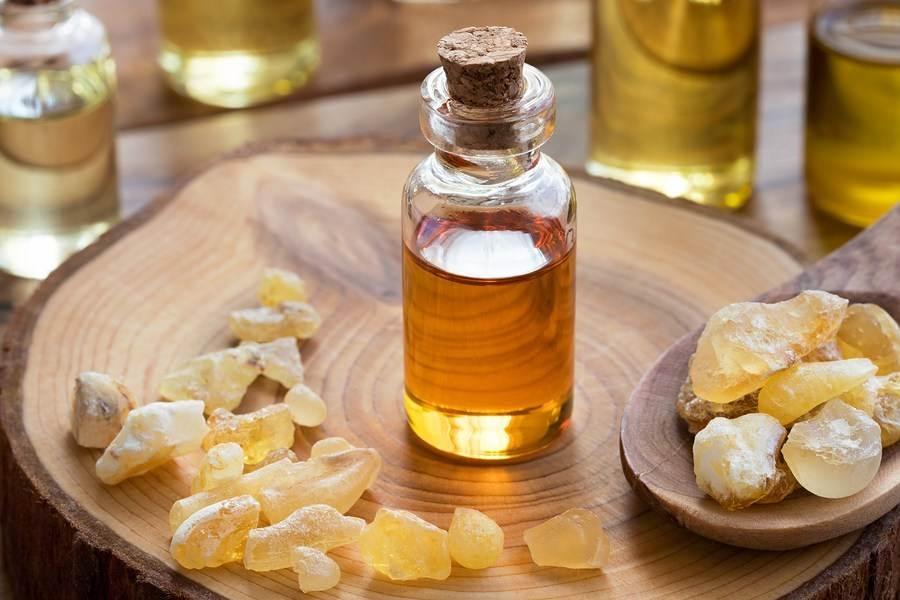 The oil is rich in anti-inflammatory and antibacterial properties. It is also an astringent that helps in tightening the skin. [7]
All these properties make frankincense essential oil a fantastic option for deep wrinkles.
Read More: 16 Amazing Home Remedies for Chickenpox Scars
2. Rose Essential Oil
Rose essential oil is one of the top three oils for deep wrinkles. [8]
The botanical name of this oil is Rosa Damascena. Rose essential oil is one of the best choices for women for its warm and feminine aroma.
The oil is an astringent with strong antioxidants and anti-inflammatory properties.
It is also a free radical scavenger. It both counters and prevents damage from free radicals on the skin.
It helps to remove deep wrinkles, makes your skin look firmer, and protects it from infections.
3. Tea Tree Essential Oil
Tea tree oil comes from the leaves of Melaleuca plants through steam distillation. This therapeutic essential oil is an effective remedy for numerous skin disorders.
Tea tree oil contains potent antioxidant properties that may prevent oxidative stress. This way, tea tree oil may be an effective treatment for aging skin, wrinkles, and age spots.
In addition, much dermatological research suggests the efficacy of tea tree oil in countering the degradation of collagen in the skin.
3. Pomegranate Seed Essential Oil
Pomegranate seed essential oil is a wonderful option for deep wrinkles. The oil is also a natural solution to skin cancer! [9]
Pomegranate seed essential oil is popular for its anti-aging effects as well. It prevents the breaking down of collagen and skin cells. [10]
The natural SPF of pomegranate essential oil works as a sunscreen and prevents wrinkles. It also heals your deep wrinkles and protects your skin from getting damaged.
Read More: 13 Uses and Health Benefits of Pomegranate Seed Oil
4. Palmarosa Essential Oil
Palmarosa essential oil has its place in the skincare world. The oil solves acne problems and treats skin infections.
Its antioxidants prevent aging of the skin and diminish wrinkles. [11] Palmarosa essential oil is also known for its tissue regenerating activity.
It helps to promote the regeneration of damaged tissues. It also helps to improve the quality of your skin.
Read More: 10 Best Home Remedies for Endometriosis Backed by Science!
5. Rosewood Essential Oil
Rosewood essential oil has the botanical name Aniba rosaeodora. [12]
The oil comes second after Rose essential oil, making your skin tight and firm. Its firming effects work on your deep wrinkles and make them less visible. [13]
The oil is astringent. It also encourages the regeneration of damaged tissues.
6. Lavender Essential Oil
The lavender essential oil has a beautiful fragrance and many benefits for the skin.
The oil is a fantastic moisturizer that softens your skin. Penetrating deep inside the skin promotes the healing of damaged skin. [14]
Lavender essential oil enhances the activities of antioxidants. It fights the free radicals and protects your skin from damage. It also helps in boosting up your immune system and keeps deep wrinkles at bay.
7. Geranium Essential Oil
The beautiful smell of geranium essential oil is a treat for the mind.
The oil is a storehouse of antioxidants that are good for your skin. [15]
It improves blood circulation and skin elasticity. This ensures good health for the skin.
It firms up sagging skin and reduces wrinkles, especially near the eye.
Read More: How to Get Rid of Redness on Face: 20 Quick Ways
8. Sandalwood Essential Oil
Sandalwood essential oil is a moisturizing agent that softens your dry skin. [16]
The oil is wonderful for wrinkles around your eyes.
It helps to improve blood circulation to the skin, which contributes to ensuring firmer skin.
It improves the quality of your skin by encouraging the development of new skin cells.
9. Clary Sage Essential Oil
Clary sage essential oil is very good for preventing fine lines and wrinkles.
The oil is very gentle to the skin. It contains antibacterial and antiseptic properties. [17]
It regulates sebum production and tightens the skin.
It improves your skin's quality and texture. It also gives you a flawless and smoother appearance by making the wrinkles less vibrant. [18]
How You Should Use Essential Oils for Deep Wrinkles on Face?
The first step while using any essential oil remedy is diluting the oil.
You can use any carrier oil according to your taste: sweet almond oil, argan oil, apricot kernel oil, and olive oil.
The ideal way of mixing the oils is to add twelve drops of essential oil to 30ml of carrier oil.
But it is better to add only a small amount and test how it behaves on your skin first.
It would help if you also kept in mind to add less amount of any potent oil.
Read More: 15 Natural Ways to Get Rid of Gingivitis (That'll Work)
Other Best Oils & Creams for Aging Skin
Apart from the essential oils for facial wrinkles discussed above, some other natural oils may work as an anti-aging treatment. Research suggests the antioxidant effects of these oils at various degrees. The oils may effectively treat fine lines, age spots, wrinkles, etc.
These anti-aging oils include:
Carrot seed oil 

Apricot oil

Sweet almond oil
You may use these as carriers oil to dilute your preferred essential oils. However, you should consult an expert to learn the appropriate amount before making the anti-aging oil serums. 
If you're not comfortable with oils, you can also opt for some anti-aging creams that help reduce the signs of aging. However, consult a dermatologist before using them.
It would help if you also took precautions to avoid allergic reactions to these oils.
Types and Causes of Wrinkle Formation
Wrinkles are of two types – static and dynamic.
Static wrinkles form in the places of your skin where no expressions form.
Dynamic wrinkles are a result of expressions. Therefore, people also call it expression wrinkles. They appear near the eye area, nose, and mouth.
Sun damage can also cause wrinkles. The blood circulation underneath our skin slows down with age. This results in the formation of wrinkles and other signs of aging.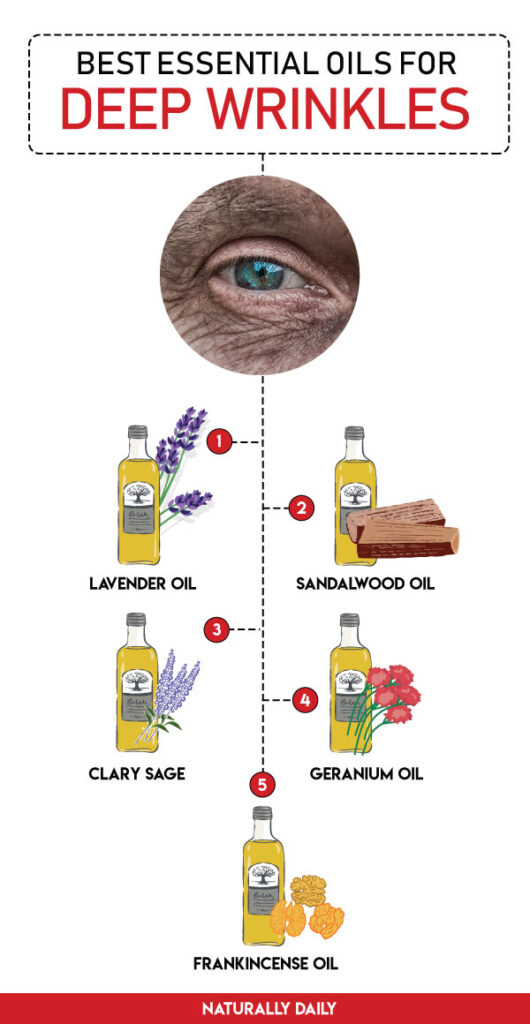 Tips and Precautions
Dilute potent essential oils with healthy carrier oils.

Limit going under the direct sunlight if possible and use sunscreen.

Avoid using harsh creams and cleansers. Instead, try to buy gentle cosmetics and make-up removers.

Avoid smoking and limit consumption of alcohol.

Drink lots of water and allow yourself to have a good sleep at night.

Try to eat fruits and vegetables that are rich in nutrients and antioxidants.
Read Next: How to Get Rid of a Chalazion: 8 Easy Home Remedies to Comfort Your Eyes!