Are you facing the irritations of Allergies and Itchy Eyes? Don't panic.
In this article, you will know some of the effective essential oil home remedies to get rid of allergies!
The symptoms of allergy occur because of an overactive immune response.
Apart from the sneezing and itchiness sneaking all over your body, seasonal allergy sufferers also have to deal with itchy eyes.
Every year, millions of Americans including children and adults, suffer from allergies.
However, finding an easy and effective solution to reduce this problem may stress you out.
Anti-allergy medications come with many side effects.
It's entirely safe to use natural remedies such as essential oils for allergies and itchy eyes. [1]
Dr. Luqman Seidu, immunology expert states that most common symptoms of an allergic reaction are: itchy or watery eyes, sneezing, and runny nose.
An overactive immune response in the body indicates the existence of an allergy.
The immune system distributes histamine that causes inflammation and irritation in your eyes, airways, ears, and skin. [2]
5 Essential Oil Home Remedies for Allergies & Itchy Eyes
Let's explore the essential oils that are helpful for quick relief from allergies.
1. Tea Tree Oil
Tea tree oil possesses anti-inflammatory and antibacterial components that ease itchy eyes in the allergy season.
The aromatic oil is a key ingredient for many eyelids and facial cleansers that treat itchiness. [3]
You may come down with an allergic itchy eye due to airborne bacteria.
Tea tree essential oil can enable you to get rid of allergic skin reactions by mitigating inflammation and inhibiting infections. [4]
ALSO READ: Tea Tree Oil for Keloids: 9 Natural Remedies
2. Lavender Oil
Lavender oil is one of the most effective essential oils for curing allergic itchiness in the eyes.
Aside from its heavenly smell, many people prefer defusing lavender oil in the bedrooms for a germ-free atmosphere.
The anti-inflammatory and anti-microbial components present in the lavender oil allow instant relief from itchiness. [5]
The lavender oil creates a calming effect on your mind which enables you to get a peaceful sleep.
For sound sleep, pour a few drops of lavender oil on your pillow or inhale it. [6]
3. Chamomile Oil
When allergies strike you, remember to use Chamomile essential oil!
Chamomile oil is yet another popular essential oil in lowering inflammation caused by allergies.
Chamomile essential oil is a perfect remedy for itchy eyes mainly on the eyelids as its gentle to the skin.
Chamomile is a soothing herb that is well known for its relaxing properties.
If you get itchy skin rashes due to allergies, consider using chamomile oil for quick relief.
Chamomile oil helps to soothe your itchy skin as well as makes your nerves calm. [7]
Remember to buy 100 percent all-natural oil for best results. [8]
4. Bergamot Oil
Bergamot essential oil has antibacterial properties which will do wonder for treating allergies and asthma.
For a fact, bergamot essential oil is well known for treating asthma effectively.
According to a study in 2010 revealed that oil extracted from bergamot was effective in relieving cough, asthmatic symptoms.
In the study, it said that inhalation of bergamot oil was used to treat symptoms of asthma.
Bergamot oil aids to treat allergies as it enables to improve your mood and makes you feel mentally awaken.
Therefore, bergamot essential oil doesn't only give you relief from various allergy symptoms, but it aids you to cope with them efficiently. [9]
ALSO READ: 17 Useful Home Remedies for Asthma Wheezing
5. Clove Oil
You will surely fall in love with clove oil.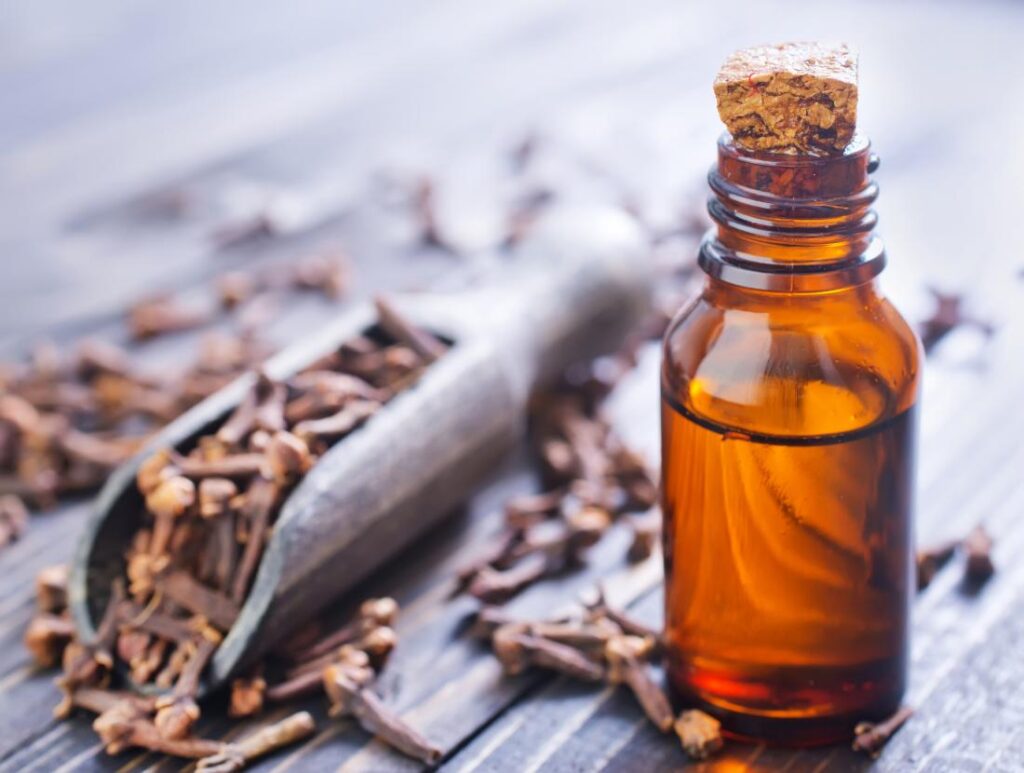 Clove essential oil prevents allergic responses in the body and kills the fungal infections.
Clove doesn't only help reduce the severity of allergic reactions, but also it has many other benefits.
The antimicrobial properties in clove can kill germs from work surfaces and diminish mites that may cause you allergies. The oil can stimulate your immune system.
Clove oil has anti-inflammatory properties which can restrain inflammatory responses.
Clove essential oil can be used in combination with other essential oils to enhance their anti-histamine effects to protect you from the symptoms of allergies.
How to Use Essential Oils for Allergies & Itchy Eyes
Beware! Never drop essential oils into your eyes!!
Recommended Directions:
Heat around 4 cups of water in a pot until the water is steamy.

Remove the water from heat and cautiously carry the pot to a table.

Take a towel and sit in front of the steaming pot.

Add 2-4 drops of any of the above-mentioned essential oil.

With a towel, create a tent enclosing your head and the pot.

Once the steam is trapped, keep your face right over the steamy bowl.

Take steam for few minutes opening your eyes and mouth until the water is no longer warm.

You can take breaks every once in a while to get a gulp of fresh air. But don't do it frequently because the oil infused steam might go away.

After the treatment is over, wash your face.

[10]
Bottom Line
Allergies and itchy eyes can be really.
The essential oils discussed here work best for allergies and itchy eyes without any risk of side effects.
The primary key is to use it in a manner that's safe and effective for you.
However, if the allergies symptoms get worse, you should consult with your doctor right away.
Let us know if the article was helpful for you.