We all love the idea of going 100% natural.
Who wouldn't love to introduce all things natural in their day-to-day lives? Unfortunately, the answer is no one. So, today I will be handing you a multi-functioning natural ingredient that will come in handy in several hair and skin care cases.
Are you native to Northern Asia or any other tropical countries? If your answer is yes, chances are you are already familiar with the unique pulpy texture, the sweet smell, and the juicy deliciousness of mango.
In most cases, we throw away the fruit's seed after being done with it, which is the part used for making mango butter. [1]
I am positive that after you learn about the benefits and the versatile usage of mango better, you will think twice before throwing it away.
Mango butter is edible; you can eat it in different forms and use it to make chocolates. Apart from being a luscious treat, mango butter is frequently used in skin and hair care routine
s due to its other benefits of mango butter.
Many DIY beauty, skin, and hair care products use mango butter.
In this article, I will discuss:
Benefits of mango butter

Similarities and dissimilarities of mango butter with other types of butter.

The properties of mango butter.

Most popular DIY skin and hair care solutions incorporate mango butter in them.

Some frequently asked queries about the uses and advantages of mango butter.
Benefits of Mango Butter
Mango butter is one of the most popular body butter, which is rich in nutrients, very much similar to unrefined shea butter but does not have the strong, nutty smell that shea butter has.
Mango butter is rich in Vitamin C. It moisturizes and shoots dry skin and chafed skin. It also helps to nourish the skin from the inside and keep it youthful, glowing, soft, and smooth. [2]
The free radicals in UV light, cigarettes, and pollutants destroy the skin's structure. Make it look wrinkly and tired. The anti-oxidant in the mango butter eliminates those free radicals and maintains proper skin formation. [3]
Mango butter reduces sunburn and frostbite damage. Mango butter also has cleansing properties. It is often used to detoxify the skin from the impurities caused by dirt and pollution.
The presence of various antioxidants and vitamins A, C, and E make your hair soft and shiny and your scalp healthy like never before.
Mango butter can alleviate itchiness, insect bite, and minor cuts.
You can also use this butter as shaving cream for smoother shaving. During pregnancy, the usage of mango butter can help with the stretch mark. Mango butter also treats minor skin rash, eczema, and dermatitis. Mango butter has a semi-hard texture, creamy white color, and light aroma. Because of its semi-hard texture can be used and stored in stick form, say lip bum or lotion stick.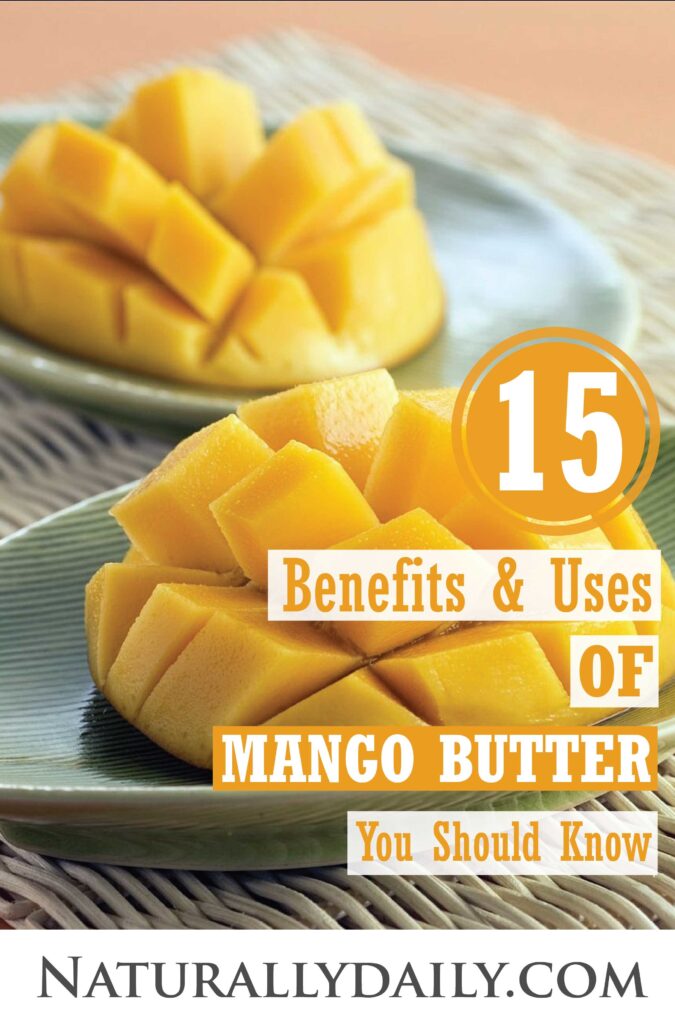 Top 15 Benefits and Uses of Mango Butter for Skin and Hair
1. Battling Acne and Dark Circle
It might surprise you how quickly you can get results from acne using mango butter. It even clears up dark circles. Because of the anti-oxidants and anti-inflammatory agents present in mango butter nourish your skin without clogging the pores and detoxifying your skin surface. [4]
Before applying this on your face, clean your face with face wash, scrub, or rose water, and then wash properly to remove any dirt or oil from your face. Then absorb the water on your face with a soft cotton towel or facial tissue. Then use the mango butter on acne, blemishes, or dark circles with a clean sponge. [4]
Also Read: Lemon Juice for Acne: 8 Simple Home Remedies
2. Fighting Against Blemishes
If you have a severe skin breakout, you should go for the anti-blemish special cream made with mango butter. [5]
Hey now! You do not need to get all worried about the ingredients. Most of the ingredients for this recipe are cheap and widely available.
You will need 2 tbsp mango butter, 1/2 tsp rosehip oil, 1/4 tsp vitamin E oil, 3 drops lavender essential oil, and 3 drops of helichrysum oil.
At first, mix the mango butter, rosehip oil, and vitamin E oil in a 4-ounce jar. Give the pot a good stir. Next, slowly pour the lavender oil and helichrysum oil into the jar.
Again, stir the jar.
Apply this potion at night and leave overnight to get the best result.
Applying and leaving this overnight will give you a great glow and a magical effect against blemishes. And guess what, the following day, you won't need that extra layer of full coverage foundation to hide that little devil!
3. Moisturizing Your Hair
If you have dry hair or scalp and suffer from severe dandruff issues, mango butter might be your shining in the white armor.
Anybody with thick or curly hair knows the pain of frizzy, harsh, or tough-to-maintain hair and knows the hassle of keeping the average growth and healthy glow. You can use some easy-to-find ingredients to make a DIY pack for moisturizing and softening your hair. [6]
You will need 1/4 cup mango butter, 1 tsp avocado oil, 2 tsp aloe vera gel, and 10 drops lavender essential oil for this hair mask. First, mix all the 3 ingredients with melted mango butter. Then fridge the mango butter for 15 minutes.
After 15 minutes, blend it out of the fridge until you get a creamy texture. You can store it in a mason jar and apply it to your hair but avoid the skull. [6]
Apply this regularly for a couple of weeks, and you will feel more like going hair down all the time.
4. It Can Heal Your Scars
Aside from removing the stretch mark, mango butter can heal scars like acne marks or age spots if used regularly and properly. [7]
To make an anti-scar cream, you need 2 tbsp mango butter, 2 tbsp shea butter, 2 tbsp cocoa butter, 7 drops lavender oil, 7 drops helichrysum oil, 4 drops carrot seed oil.
Like the previous recipe, mix all the other ingredients with melted mango butter. Then blend it upon keeping in the fridge for 15 minutes.
And if you do not have all the ingredients mentioned handy, use only mango butter on the scars. You will get a similar result, but it will take a bit longer.
5. Protection Against UV Lights
The UV light of the sun contains free radicals, which destroy the regenerating properties of your skin. The anti-oxidant property of mango butter helps fight those radicals and regenerate your skin. So, your skin looks younger, more beautiful. [8]
This way, you can enjoy the summertime without having a nasty and untimely tan.
6. Soothing Sunburn
As much as we all love a sunny day, the one thing that absolutely every one of us can live without is sunburn. It is unhealthy and quite painful. Mango butter contains the property of soothing sunburn. [9]
Gather up 2 tbsp mango butter, 2 tsp aloe vera gel, and 3 drops of peppermint oil, and mix all these ingredients in a jar. Whip it until you get a paste-like mixture. Store the paste in a cold and dark place and apply it to sunburn until the burn is alleviated.
7. Soothing Insect Bite and Bite Itch
You can also dab mango butter mildly on insect bites and resulting itches due to poison ivy or rash. Mildly dabbing the butter on the affected area can ease the itch and irritation. [10]
If you are going camping or somewhere where you will be hanging outside for a long time, I suggest packing some of the butter as well. It will work miracles on those irritating mosquito and insect bites.
8. Improving Your Complexion
Mango butter is rich in vitamin A. Applying mango butter nourishes your skin from the inside and gives it a healthy glow. It also helps to regenerate your cells.
As a result, your skin will show lesser signs of age, like fine lines and wrinkles.
So, wait no more. Include mango butter in your skincare routine today!
9. Treating Skin Condition Like Eczema and psoriasis
This unique skin care product also has anti-inflammatory properties. Mixing any amount of semi-hard mango butter and double that amount of semi-hard coconut oil and whipping these properly will give a creamy texture.
Apply the mixture to your inflammation, itch, or irritation like eczema and psoriasis, and you will get rid of it in no time. [11]
10. Removing Stretch Mark
People are so stressed during their pregnancy for so many reasons. They do not need to add to that list by worrying about stretch marks.
Thanks to the many nutrients and moisturizing quality of mango butter. You can have your very effective and DIY stretch mark remover now. Mix mango butter with semi-hard coconut oil and apply it on areas prone to stretching during pregnancy, like breasts, hips, and abdomen. This cream will keep your skin moisturized and free of stretch marks. [12]
Also Read: 7 Most Effective Essential Oils for Stretch Marks and How to Use Them
11. Treating Rough and Dry Skin
Nobody likes rough, dry skin and the inconveniences that come with it. Because of its ultra-moisturizing properties, mango butter moisturizes your dry skin, making it soft and nourishing pulp. [11]
You do not have to worry about picking the right moisturizer or lotion for your skin type.
Whatever your skin type is, you can use this magic bar of butter.
12. Treating Minor Wounds
Mango butter is perfect for home remedies in case of minor cuts or burns. Mix some boiled-down butter and tea tree oil and apply it to the wounds. This will help regenerate your skin and soothe your wound. [13]
But if the wound is severe, I suggest you see a doctor for that.
13. Recipe for DIY Soap or Bath Bombs
If you are one of those obsessed with their DIY bath bombs and soaps, I have news for you. You do not need to worry about your soap being extra oozy or not moisturizing enough anymore. Use mango butter while making the soap, and both of your problems are solved.
You can still have hard bars, and that leathery, conditioned feel you want on your skin.
14. Use as Body lotion
Mango butter whisked with shea butter and almond milk can be used as body butter/lotion. It moisturizes skin and makes it smoother. You can also make a lotion stick if that suits your storing policy better. [14]
It is easy to pack, carry, and cost-effective as well.
15. Skin Care of Your Baby
Baby skin needs extra care. Apply mango butter if your baby has rashes or inflammation from wearing the diaper. Some dermatologists prefer mango butter to cocoa and shea butter for babies, as it is lighter and does not make the skin sticky. [15]
Precautions While Using Mango Butter
In any of these cases, it is not wise to use your fingertips to use the butter or the mixture on your skin because the germs or bacteria on your fingertips or nails might come into contact with the affected spot and make the condition even worse.

In case you have to use your hands on your face or hair, clean them properly before doing so.

Heat can negatively react with this super-care ingredient. So, ensure that it is stored in a calm and dark place but not moist. If held in a damp location, it can be affected by the unwanted growth of fungi.

 The whole point of using natural skin care products is, going chemical free. So, you do not want to use chemical preservatives while storing the butter. Ergo, your mango butter has a short store life of around 12-18 months.

Be very careful while ordering online or buying from the store and check the manufacturing date on it and then double-check it. Also, look for the words "unrefined," "crude," and "cold pressed." Any of those means that your butter is primarily organic and was extracted from mango seed using a natural method.
Frequently Asked Question:
Are there any side effects of using mango butter?
Ans: No, it has no side effects if used externally.
Can I use the potions on children?
Ans: All the mixtures and potions mentioned in the articles are entirely natural and have zero side effects on children. But some of those can be too harsh on a baby's skin. So, it is better to consult your physician before applying those to your baby.
Is mango butter edible?
Ans: Yes, it is.
Is mango Butter comedogenic?
Ans: No, it is non-comedogenic. That means it won't clog pores or aggravate acne-prone skin.
Bottom Line
You can use Mango butter to get a home remedy for several of your significant hair and skin problems. Apart from being entirely natural, it doesn't affect any skin. So, whatever your skin type is, you can use all the mixtures described here.
People use mango butter as a primary skin and hair care element worldwide. In this article,
I have described some of those usages. I hope you find this article helpful, and do not hesitate to ask us if you have any further queries.