Cholesterol-filled oil is not the only option for creating a delicious batch of chocolatey brownies.
There are many other healthier options to substitute for oil in brownies.
People with a sweet tooth love the chocolaty, delicious, homemade brownie. Brownie, the mix of cookies and cake, is one of the most favorite desserts the whole family can enjoy.
But oil can be a problem. Some people are not allowed to have saturated fatty acids. Saturated fats are responsible for increased blood levels of LDL and cholesterol. This condition leads to heart disease. [1]
Trans fatty acids can also increase the level of cholesterol in the blood. It happens when vegetable oils are processed to create shortening or margarine. [2]
Oil is an essential part of most cooking. However, you can use it wisely or look for healthy substitutes.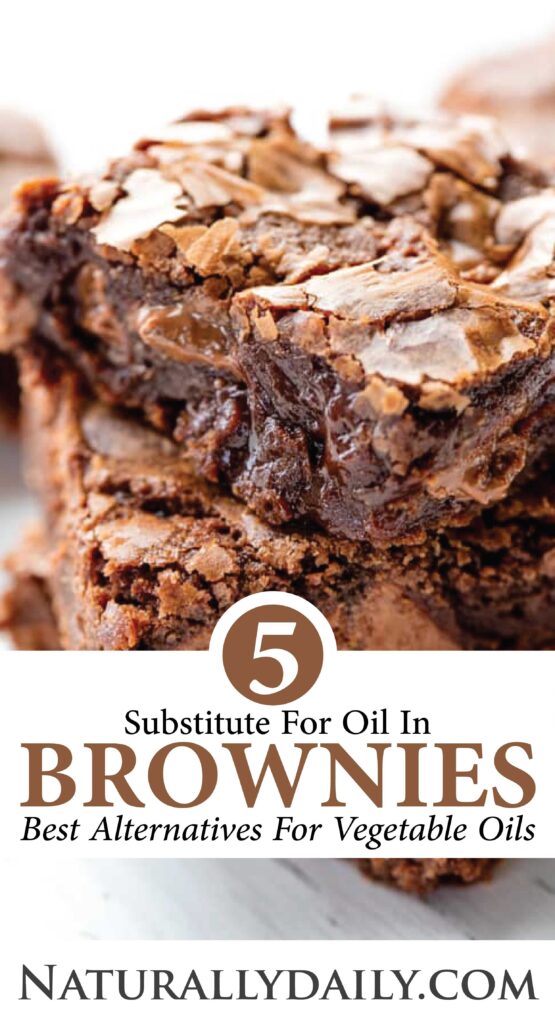 Substitutes for Oil in Brownies
1. Applesauce Is Considered The Best Substitute For Oil In Brownies
Applesauce is the most effective low-fat substitute for vegetable oils in baking brownies.
It is a puree made of apples containing all the nutritional values of the miracle fruit. [3]
Replacing ½ cup oil with the same amount of applesauce can cut a whopping 913 calories.
This alternative improves the overall taste of your brownie. However, your brownie's texture will be a bit thinner and spongier with applesauce.
How to Use Applesauce in Making Brownie:
You can substitute ½ cup of applesauce for every ½ cup of oil.
But it's highly recommended that you use ¾ cup of sauce for every cup of oil you apply for a better texture.
Also, do not forget to check whether your brownies are ready before 10 minutes of full bake time.
Read More: Apple Cider Vinegar for UTI Treatment: 11 Practical Ways
2. Greek Yogurt Can Be An Unusual But Healthy Oil Alternative
Many do not know Greek yogurt is a perfect alternative to the high-fat ingredients in baking.
Adding Greek yogurt to your brownie ingredients gives you a guilt-free bite. You can please your taste buds with an extra dose of calcium and protein. [4]
Brownies made with yogurt will be puffier than those made with applesauce. But, on the other hand, they may be soft and sticky inside with a mellow tang.
How to Use Greek Yogurt in Making Brownie:
Use ¾ cup of plain yogurt for every cup of oil to add a touch of creaminess and fat without a massive caloric cost.
3. Avocado Can Replace Unhealthy Fatty Oil
Eat brownies without worrying about cholesterol. Swap the oil in the brownie with avocado.
Avocado contains a high-fat percentage. But it is monounsaturated fats. These fats can lower cholesterol and makes your brownies heart-friendly. [5]
It's also rich in vitamin K, which decreases the risk of diabetes. Adding avocado as a substitute for oils will make your brownies dense and rich in the right way.
How to Use Avocados in Making Brownie:
You can make an oil-free brownie using avocado and yogurt.
Make a puree of one large avocado and mix ½ cup yogurt with it; you don't need any oil to bake the brownies.
4. Dried Plums Or Prunes Both Are Good Substitute In Baking
Dried plums or prunes can be a good oil alternative, especially chocolate-baked ones.
Using prunes will add vitamin K and A to your brownies. [6]
Dried plums consist of both soluble and insoluble fiber and antioxidants.
Thanks to its natural sweetener, you don't even have to add extra sugar.
Fudgy and moist brownies are a bonus with a hint of fruity flavor.
How to Use Plums and Prunes in Making Brownie:
First, soak one cup of pitted dried plums in one cup of boiling water.
Next, make a puree using a blender.
Replace all the oil in a recipe with the puree. Add more puree if you find the batter a bit dry.
Read More: Top Lemon Plum Benefits & Uses You Should Know
5. Black Beans Can Bring Fiber Into Your Brownie
This protein-packed superfood is a healthier substitute for oil in making brownies. [7]
Black beans are rich in dietary fiber. It helps the brownies stay a little longer in your stomach. Black beans can also reduce the sugar rush in your bloodstream. [8]
It will make your favorite dessert deliciously fudgy and dense, and you won't even have the flavor of bean in it.
How to Use Black Beans in Making Brownie:
Make a puree of a 14-ounce can of salt-free black beans in a blender.
Add the puree directly to the brownie mixture, replacing about 75% of the fat.
If you want to replace the oil completely, add yogurt with the black bean puree.
Read More: Best Dill Substitutes: 6 Herbs That You Must Know!
6. Tofu can Replace A Huge Amount of Fat from Your Brownie
Tofu could be the best replacement for oil in your dessert recipe if you're a vegetarian.
It's full of protein and calcium, meaning that it will add some nutritional value to brownies. [9]
Tofu has a very mild flavor that you won't find in the brownies and can replace almost half of the fat from the recipe.
How to Use Tofu in Making Brownie:
First, replace half of the oil with tofu.
Then, if you want an entire oil-free recipe, replace the other half of the oil with a puree.
Read More: 7 Coriander Seed Substitutes That You Need to Know!
7. Beets – A Very Unusual Oil Proxy In Brownie
You can easily rely on the beet if you want to put a natural blush on your chocolate brownies while making them healthy.
It consists of antioxidants and anti-cancer vitamin folate. Beets will make your favorite dessert healthier. [10]
Beets can add tenderness and moisture to your brownies. Also, this vegetable is one of the sweetest. So you can cut down on adding extra sugar.
How to Use Beets in Making Brownie:
Take ½ pound beets and peel them.
Steam and boil the beets and add three tablespoons of oil.
Add the puree to the batter mix.
Read More: 12 Essential Oils for Cancer That You Should Know (Backed by Evidence)
8. Pumpkin Puree Brownies are a Very Good Idea
Pumpkin puree is not only just great for pies but also the brownies.
This vegetable is rich in beta-carotene. It is a crucial antioxidant agent that inhibits inflammation and reduces cholesterol. [11]
Adding pumpkin puree will make the brownies moist and fudgy, with a hint of flavor. It can heighten the chocolate flavor as well.
Try making pumpkin brownies this Halloween.
How to Use Pumpkin in Making Brownie:
Use ¾ cup of pumpkin puree for every one cup of oil you use.
Add extra pumpkin puree or yogurt if you see the batter is too dry.
9. Use Canola Oil instead of  Vegetable Oils in Brownies
Canola oil comes from genetically bred rapeseeds. Often it is referred to as the 'world's healthiest oil' by the manufacturer. Canola oil is a healthy edible oil.
It has a very low amount of saturated fat and a high volume of unsaturated fat. The omega-3 fatty acids in canola oil are good for cutting down on cholesterol levels. [12]
Canola oil is one of the best substitutes for vegetable oils in brownies.
10. Olive Oil as a Replacement for Vegetable Oils in Brownies
Around 73% of the total oil content in olive oil is monounsaturated fats containing oleic acids. [13]
Olive oil is a rich source of other polyunsaturated fats from omega-3 and 6 fatty acids.
Olive oil is resistant to high heat and is a healthy cooking oil option.
The oil contains vitamin E and K. Researchers agree that olive oil has beneficial effects on diabetes, cancer, and heart health.
Monounsaturated fats can prevent the risk of strokes. [14]
So it is quite evident that you can use olive oil instead of vegetable oil for brownies.
Bottom Line
These substitutes will deliver nutrients and will save you from unwanted calories.
Trying to live healthy does not mean you have to detach yourself from treats you like.
You can always find a suitable substitute for kitchen ingredients.
We hope these substitutes will help you eat your favorite sweet dishes and help you to stay healthy and fit.
Read Next: 10 Best Substitutes for Cottage Cheese That You Must Try!