Anchovy is a small fish that belongs to the family Engraulidae. It comes with excellent nutritional properties such as omega-3 fatty acids and antioxidants. [1] They abound in the Pacific, Indian, and Atlantic oceans. They are usually green in color with a silver stripe.
Anchovies are pretty popular when it comes to salad dressing. It adds a robust flavor to the seafood. You can find them in the super shop as a paste or fillet salted in brine. While you can use the fillet, the paste is the most popular form of anchovy and is easier to use.
But the anchovy paste is difficult to find, and you may not like to use the fillet. So you can try some anchovy substitutes.
This article will discuss substitutions for anchovies that you can use to bring a super savory flavor to your food.
Find More Substitutes: Substitutes For Poppy Seeds: 5 Healthy and Tasty Alternatives
Substitute for Anchovies (Non-veg and Vegan)
These are some of the nearest alternatives for anchovy you can use.
Some of these replacements are very salty, so you have to be careful with other ingredients to make a balance.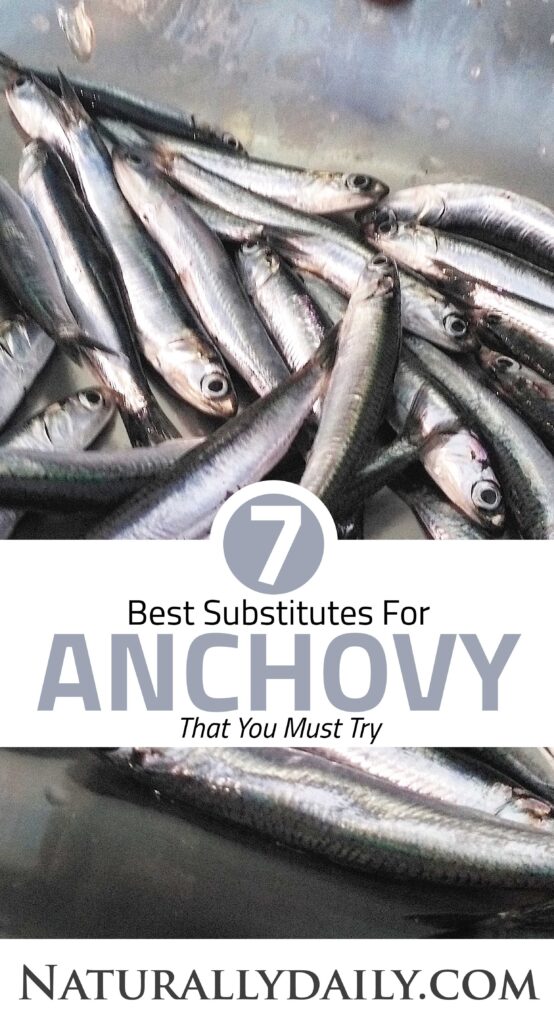 1. Worcestershire Sauce
Worcestershire sauce is the first thing that comes to mind for an anchovy substitute.
The reason behind it is simple, the ingredients. One of the main components of this sauce is anchovy. Worcestershire sauce has a flavor equivalent to anchovies.
This fermented liquid contains many other ingredients to give your food the same fishy flavor.
You'll love the Worcestershire sauce 
if you like anchovy in paste form.
But, it would help if you consumed this sauce moderately, as too much consumption may lead to a kidney problem. [2]
Read More: Best Dill Substitutes: 6 Herbs That You Must Know!
2. Asian Fish Sauce
It is a must-have ingredient in the kitchen for those who love to wow people with their delicious dishes. [3]
People use fish sauce to bring a unique flavor to the dishes. It is a necessary ingredient to make mainly Chinese and Japanese dishes.
But, it would help if you used it moderately as it comes with a tart taste, and the flavor of your dish might vary a little.
Asian fish sauce is an excellent substitute for anchovy in soups, Caesar salad, stews, and stocks.
3. Shrimp Paste
Shrimp paste is one of the most famous ingredients in Southern Chinese and Southeast Asian cuisine.
This paste is fermented ground shrimp with salt. It's pretty healthy as shrimp is an excellent source of iron. [4]
You can use it while making curries and sauces. Use the same proportion for shrimp paste as an alternative to anchovy paste.
Shrimp paste has a strong taste, so adjust other ingredients accordingly.
Read More: 10 Best Essential Oils for Bone Healing & How to Use Them
4. Capers
The green buds of caper bush often come as a pickle in salt or vinegar.
You can use them to make sauces and some seafood.
Capers are rich in medicinal value. It can be beneficial for diabetes, fungal infections, intestinal worms, etc. [5]
It's a good substitute for anchovy fillets as its flavor is strong but not overpowering.
Use a ½ tablespoon of capers for one tsp of anchovy.
Read More: 7 Coriander Seeds Substitutes That Need to Know!
5. Umeboshi Paste
Umeboshi, or pickled plum, is initially from Japanese cuisine and is a great side dish with rice.
Umeboshi paste is a healthy anchovy substitute. It has antioxidant, anti-inflammatory, and memory-improving properties. [6]
Its intense and salty taste can bring that umami flavor in this you're looking for. It could be a good choice for you if you're a vegetarian.
Umeboshi sauce works fantastic on Thai dishes, and you can also use it as a salad dressing.
Read More: Top Lemon Plum Benefits & Uses You Should Know
6. Seaweed
If you're a vegan, then you can't have anchovy. But you can still have the same flavor in your food.
Seaweed can help you with that. This mineral-rich herb can be an excellent vegetarian substitute for anchovies.
Seaweed is highly healthy as it contains almost all ocean minerals. [7]
It has no calories, no fats, and sprinkles of the herb can bring that same umami flavor to your craving.
Read More: Overcome Adrenal Fatigue Naturally: 18 Lifestyle Hacks + Supplements
7. Soya Sauce
Who doesn't know about soya sauce? After all, you can't have your favorite sushi without it.
It is a staple condiment of many restaurants and kitchens. Soya sauce can also be a great alternative to anchovy.
The main ingredients of this sauce are soy, which is an excellent source of protein. [8]
It's excellent for high blood pressure, high cholesterol, and heart problems.
Soy is also great for type-2 diabetes, kidney disease, and pregnancy.
Make sure none of your family members are allergic to soy before using soy sauce in your food.

Bottom Line
Seafood and good salads with intense fish flavors are not only a treat for your tummy but also your heart.
Nothing is more precious than making a delicious dinner for your family. But missing out on an essential ingredient can ruin everything. That's why you should count on the alternatives.
You must ensure that neither you nor your family members are allergic to these substitutes. And if you're a vegetarian, there are better alternatives as well.
Read Next: 10 Best Substitutes for Cottage Seeds That You Must Try!