Strawberry essential oil is extracted from the wild strawberry (Fragaria vesca) through steam distillation.
Wild strawberry is quite well known because of its numerous health benefits. Its essential oil also comes with therapeutic values. [1]
Strawberry essential oil is famous for skin care, especially for its anti-aging effect and ability to protect the skin from environmental damage.
Keep reading to learn some of the uses and benefits of strawberry essential oil. Unfortunately, there is not enough research about this oil. But some research on the wild strawberry will give you an idea about the efficacy of this essential oil.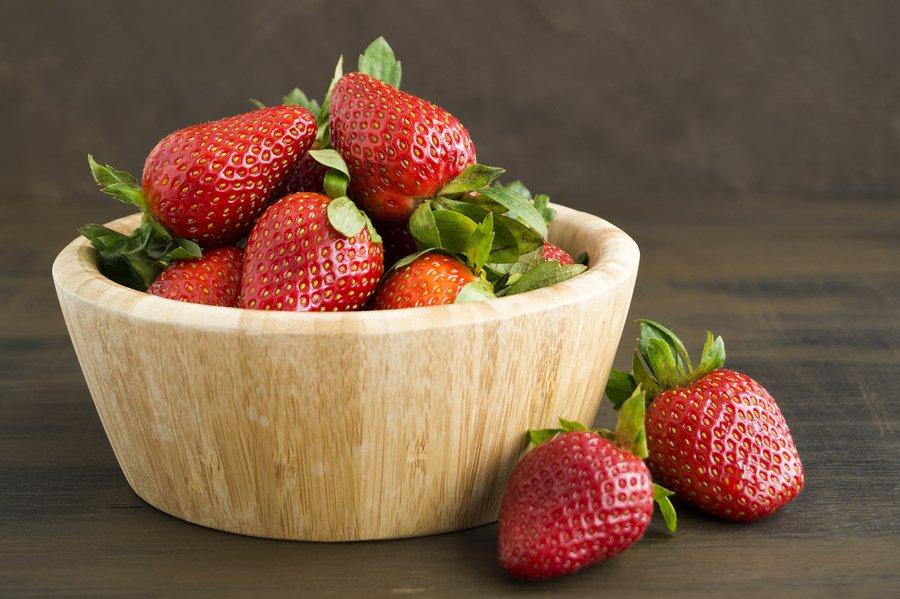 Properties of Strawberry Essential Oil
There are two types of strawberry essential oils. One comes from the leaf of wild strawberry, and the other comes from the flowers, branches, and stems.
The essential oil that comes from the leaf yields 0.46% – 0.62%. On the other hand, the inflorescence essential oil delivers 0.21% – 0.30% essential oil. [1]
The main components of strawberry leaf essential oil are nonanal and myrtenol. This oil contains linalool, cumene, geraniol, citronellol, carvacrol, and dibutyl phthalate. [1]
These components are responsible for the oil's fresh, sweet, and mild floral scent.
Myrtenol is the critical component of inflorescence oil (65 – 71%). It also contains linalool, cumene, nonanal, carvacrol, citronellol, geraniol, trans – pinocarveol, terpinen – 4 – ol. They give the oil a spicy, floral, and sweet aroma. [1]
Both the oil are rich in medicinal properties. Thus, you may get some health benefits from using this essential oil.
Benefits & Uses of Strawberry Essential Oil
1. Strawberry Essential Oil Can Work as Anti-Aging.
The anti-aging effects of strawberries are widely known. Its essential oil is also rich in antioxidants and fatty acids.
A study published in 2016 evaluated the presence of bioactive phytochemicals in wild strawberries. It showed the fruit contains antioxidants, antibacterial components, and some fatty acids. [2]
Because of these properties, strawberry oil may help your skin look young and radiant. It can also reduce the signs of aging in your skin.
Besides, this essential oil can boost collagen production and moisten your skin.
READ ALSO: 9 Best Essential Oils For Deep Wrinkles on Face and Anti-Aging
2. It Can Protect Your Skin from Damage.
Prolonged exposure to the sun can harm your skin. Strawberry essential oil contains ellagic acid. [2]
This acid can protect your skin from harmful UV rays. [3] Besides, ellagic acid also has some positive effects on human health.
Strawberry essential oil can work as a natural sunscreen. The antioxidant properties also help protect the skin from free radicals and environmental damage.
READ ALSO: 6 Essential Oils for Sun Damaged Skin
3. Strawberry Essential Oil is Good for Your Hair.
Strawberry essential oil contains omega -3 fatty acids, copper, and magnesium. These components are vital for hair health.
The oil also has antifungal effects. [4] Due to this component, the oil may help you eliminate dandruff. Its antioxidant properties help keep your hair moisturized and soft.
Using this oil can also leave your hair with a refreshing aroma.
READ ALSO: Emu Oil or Hair: 8 Potential Uses and Benefits
4. It Helps Lighten Your Skin.
Strawberry is quite popular to lighten your skin. Its antioxidant and skin brightening properties may help in improving the skin complexion.
Like the fruit, the strawberry essential oil may also help reduce scars, dark spots, and patches and improve the skin complexion.
You can use the diluted version of this oil or add it to your regular facemask.
READ ALSO: 13 Best Essential Oils for Skin Glow
5. Strawberry Essential Oil is Good for Massage.
Like the other essential oils, this essential oil is also great for massage. Besides its incredible aroma, the strawberry essential oil is also light in texture. So, it's easy to rub on the skin.
Massaging with this oil will make your skin soft and feel relaxed.
How to Use Strawberry Essential Oil
There are several ways to use this essential oil. You can try any of the following methods to use it:
Dilute the strawberry essential oil with a carrier oil and apply them to your skin. You can also add this oil to creams, lotions, and shampoos.

Pour some of this essential oil into a diffuser and inhale the aroma. Both types are suitable for

aromatherapy

.
Best Blending Combination
Apart from carrier oils, a strawberry essential oil also blends well with some fruit essential oils. These include:
Vanilla

Banana

Coconut

Lemon

Orange
Safety Tips for Using Strawberry Essential Oil
Strawberry essential oil can make your skin photosensitive. So, prolonged use is strictly prohibited.

Always dilute this oil with a carrier oil before using it on the skin. Pure oil may irritate your skin.

A patch test is a must before using this essential oil regularly.

Do not internally take this oil.

Remember, a good, organic strawberry essential oil won't smell like fresh fruit. So, if your oil smells like fresh fruit, it may be the fragrance oil, not necessary.

Some people are allergic to strawberries. So, they should also avoid using this essential oil.

Pregnant women and nursing moms should not use strawberry essential oil.
Strawberry Essential Oil Vs. Strawberry Fragrance Oil
Many people confuse strawberry essential oil with fragrance oil. But they are not. Essential oils come from the leaf, flowers, stems, and branches. But the fragrance oils come from the seed or fruits.
Fruits contain water, minerals, and vitamins, but not essential oil molecules. Therefore, Strawberry essential oil is rich in medicinal properties. But, the strawberry fragrance oil is mainly used in the perfume industry.
You cannot use the fragrance oil as a replacement for essential oil, not even in the diffuser. This is because fragrance oils can be adulterated. They also tend to clog the diffuser.
EndNote
You must read the labels carefully if you're new to essential oils. If possible, ask for an expert's advice.
Many unethical sellers may try to sell fragrance oil instead of essential oil. So, you must buy strawberry essential oil from a reputed seller.
Strawberry essential oil can be an excellent choice to include in your body product, as a massage oil or add to a candle.
READ NEXT: Ocotea Essential Oil: Uses, Benefits, and Side Effects