A perm gone bad can be frustrating. The good news is, that there are ways to get rid of it without having to expose your hair to another round of chemicals.
Perm is an artificial way of styling hair. You can get a "permanent wave" of the hair using chemicals and heat. It is a very popular method of hairstyling.
But, chemicals can harm your scalp and hair roots, and your health as well.
It's better to rely on natural remedies to reverse a perm. These easy home remedies are useful and safe even for long-term use to remove a perm gone wrong.
12 Home Remedies to Get Rid of a Perm
Following are some of the easiest remedies that you can use to undo a perm faster.
1. Olive Oil
Olive oil is one of the healthiest cooking oils.
It is rich in monounsaturated fatty acids. It's also an excellent source of antioxidants such as phenols [1].
It's no surprise that olive oil can reduce heart disease and other serious ailments [2].
Now here's another exciting fact about this favorite oil:
It also promotes hair health. Yes! Olive oil is one of those oils that you can put on your hair.
Experts say olive oil can help relax the wavy patterns and straighten out the strands.
Even so, it's one of the integral ingredients in a hair protective cream product. The manufacturers have put an olive in it to make sure that the hair straightens without any side effects [3].
How to use olive oil to get rid of a perm:
Warm ½ cup of olive oil in a pan over low heat. Apply warm (but not hot) oil to your hair strands. Massage your scalp for 20 to 30 minutes. Run a comb through the strands to distribute the olive oil. Cover your hair with a wet towel soaked in warm water.
Wait for 30 minutes. Rinse off the olive oil with shampoo. Comb it again. Repeat the remedy once a day to relax perm.
Buy olive oil hair products from here
Read More: How to Use Olive Oil for Skin Health Boost
2. Coconut Oil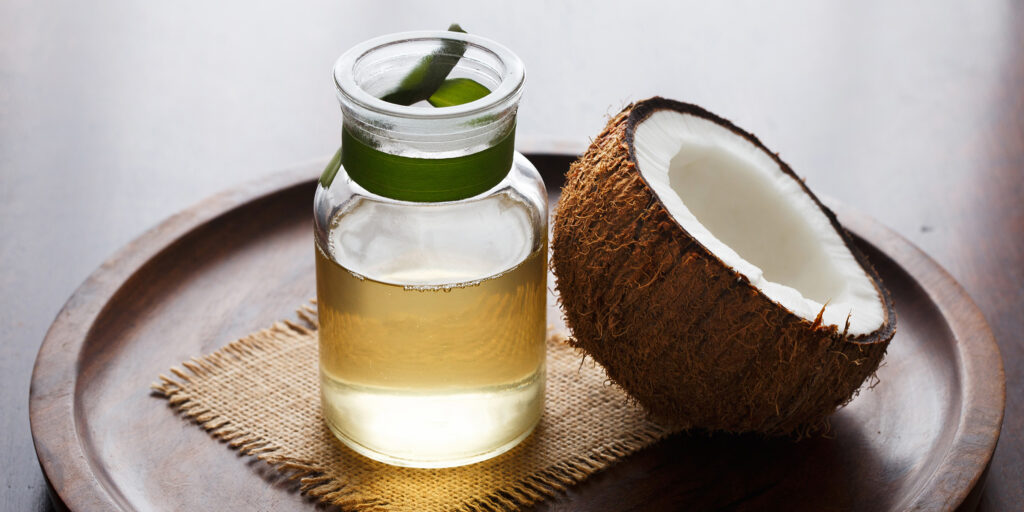 Coconut oil was once deemed unhealthy due to its high amount of saturated fat. But now, experts consider it one of the best superfoods there is.
Here's the reason:
Saturated fats can increase good cholesterol also known as high-density lipoprotein. Also, they reduce the low-density lipoprotein or bad cholesterol.
Research has also proven that this oil has many beneficial properties. This includes potent analgesic, anti-inflammatory, and antipyretic properties. Thus, coconut oil can ward off some significant health and hair problems [4].
Now if you'd like to get rid of your perm and have gorgeous straight hair, consider using coconut oil. It works well in taming the frizz and increasing shine [5].
Best of all:
It promotes scalp health and prevents hair damage, reports a 2002 study [6].
It can penetrate into the hair shaft and prevent the loss of protein [6].
A simple way of using coconut oil to reverse perm:
Spread a thin layer of coconut oil on your scalp and hair strands. Massage scalp for 10 to 15 minutes. Use a comb to spread the oil to the strands. Cover hair with a towel for one hour. Remove the towel and comb the hair again. Wash it off with warm water. Do this procedure once a day for up to one week.
You can buy organic coconut oil here
Read More: Coconut Oil for Dandruff: Benefits & 11 Home Remedies
3. Coconut Milk
Coconut milk is an excellent source of fiber, B vitamins, vitamin C and minerals. It is a nutritional powerhouse that you should drink more often.
And if you're lactose intolerant then you should definitely drink coconut milk.
Coconut milk is lactose-free. Thus, it's a good substitute for milk if you're not able to digest lactose in dairy products.
Coconut milk is also believed to have many benefits for the hair.
Your hair may become weak, brittle, and damaged after chemical treatments like a perm.
Coconut milk can "restore hair and scalp health" according to Earth Clinic.
It's also said to help in straightening the hair strands and getting rid of ugly perm.
Learn how you can use coconut milk for perm gone wrong:
Combine 1 cup of each coconut milk and lemon juice in a glass jar. Cover the glass jar and place it in the refrigerator for two to three hours. Use the chilled mixture to massage your scalp and hair. Wrap a towel around your head or wear a shower cap.
Leave it on for 20 to 30 minutes. Shampoo and rinse your hair. Comb the strands. Follow this technique once a day until your hair is straight again.
Read More: 10 Highly Effective DIY Hair Growth Serums & How to Use Them
4. Eggs
Eggs are rich in omega-three fatty acids that are quite beneficial for health.
Apart from keeping many chronic disorders at bay, eggs are also suitable for your hair [8].
Egg yolk contains sulfur.
It may stimulate the blood flow to the scalp, thereby increasing hair growth. The egg white is rich in protein, which works in strengthening the hair follicles.
Here's more:
It has folate that can also help prevent hair damage and loss.
Some say that if you combine eggs and olive oil, this mixture can help remove the perm in your hair.
Try this method of using an egg to get rid of a perm:
Beat 2 eggs and add 4 tablespoons of olive oil. Put a small amount of this mixture on your hair and scalp. Comb your hair. Cover your head with a shower cap. Wait for 45 minutes. Wash your hair. Repeat this technique every other day until the perm is gone.
Read More: 10 Reasons Why You Should Use Shea Butter For Hair
5. Aloe Vera
Aloe vera is famous for treating a myriad of ailments and promoting health [9].
It is also revered for its valuable contributions to skincare and beauty [9].
For the hair, it does many wonderful things:
For one, it protects the hair from sun damage, so that it doesn't become weak and brittle [10].
Also, it can penetrate into the hair shaft and scalp to get its nutrients working [10].
So, it is an excellent choice for relaxing perm gone bad.
Aloe vera also does a fantastic job of revitalizing hair and strengthening it from the root to the tips [10].
Besides, it can help you get rid of frizz and waves.
Here's how you may use aloe vera to get rid of perm:
Warm olive oil in a pan over low heat. Remove from heat. Mix ½ cup of each olive oil and aloe vera gel. Add 5 drops of rosemary oil and 6 drops of sandalwood oil. Apply the mixture to hair strands and scalp. Massage for five to 10 minutes. Wear a shower cap. Let it sit for one
hour. Shampoo and rinse hair afterward. Use this procedure once a day for one to two weeks.
Read More: 11+ Health Benefits of Aloe Vera Oil (Backed by Scientific Evidence)
6. Fuller's Earth
Have you tried using fuller's earth on your hair or face? If not, it's about time that you do.
It is a type of clay material, made from bentonite. Fuller's earth contains many minerals and has many uses for beauty and health [11].
It contains minerals such as quartz, iron, silica, magnesium, calcium, dolomite, and calcite.
Fuller's earth has gentle but effective cleansing action on the hair. It helps remove excess chemical and dirt buildup.
As you know that to get a perm, your hair will go through an ordeal of chemicals. Plus, this will make your hair more prone to dirt build-up. Thus, using Fuller's earth will help your hair stay cleaner. And if your perm has indeed gone bad, it will try to reduce that.
Moreover, it can give you straight hair without exposing you to harmful chemicals.
How you can get rid of bad perms using fuller's earth:
Combine 1 cup of fuller's earth, 1 egg white, and 2 tablespoons of rice flour in a bowl. Mix well. Put a generous amount of the mixture on your head. Comb the strands of your hair. Let it sit for one hour. Wash it off with cool water. Do this every day for one week to get a perm out of your hair.
7. Beer
Beer on your hair?
Yes! It's very hard to imagine how an alcoholic beverage like a beer can help with your beauty regimen. But many people who have tried it attest to its efficacy. It indeed is a good choice to treat perm.
It's a safe and simple method for straightening frizzy locals.
The beer has protein and B vitamins that can repair damage from the perm.
It also contains maltose and sucrose sugars. These are effective in tightening the hair cuticles and bringing back the hair's shine.
A simple recipe of beer to reverse perm:
Boil a cup of beer in a pan over low heat. Wait for it to reduce to half. Let it cool. Mix beer and shampoo. Use this mixture to wash your hair. Repeat every other day until the hair becomes straight.
8. Apple Cider Vinegar
Another great natural treatment for the "perm" in your hair is apple cider vinegar.
To revive its smoothness and frizz-free days, try using this remedy.
Apple cider vinegar not only gets rid of perm but can also help restore the pH balance in your scalp.
It can also remove the chemical buildup due to the overuse of commercial hair products.
Learn how to use apple cider vinegar to strip a perm:
Combine 1 tablespoon of apple cider vinegar and 1 cup of water. Shampoo your hair as usual. After that, use this mixture to rinse your hair. Leave it on and let it dry. Comb your hair. Wash it off after 2 hours. Repeat the treatment regularly to loosen a perm fast.
Read More: 20 Reasons to Use Apple Cider Vinegar for Hair + How to Use it
9. Fresh Milk
Fresh milk is extraordinary when it comes to hair care. Milk has a high level of proteins. Thus, it can help moisturize and straighten your permed hair. Moreover, milk can strengthen your hair shafts and remove frizz and brittleness.
You can make use of a homemade milk and egg hair mask to get rid of perm.
Try these simple methods of using milk to get a perm out of your hair:
Method 1:
Beat an egg and mix it with 2 cups of milk. Apply the mask to your hair strands using a brush and wait for 20 minutes. Wear a shower cap to cover your hair and leave it for another 30 minutes. Now, wash your hair with a good shampoo and condition it. Repeat the treatment twice a week for relaxing perm.
Method 2:
Pour ½ cup of each milk and water into the spray bottle and shake well. Now remove the tangles of your hair and spray the solution. Leave it on for 30 minutes so that the hair absorbs the milk. Wash off using a shampoo and condition your hair. You can use a hair perfume to remove the milky smell from your hair. Repeat the treatment 3 times a week to straighten permed hair.
10. Banana
Banana is another superb ingredient to treat permed hair. Banana mash can hydrate and moisturize your hair. Thus you get healthy and straight hair in no time.
Additionally, the essential components in a banana can treat your itchy and dry scalp. The Following is a banana, olive oil, honey, and probiotic hair mask to treat your curly or permed hair.
Here's how you may use banana for bad perms:
Mash 2 ripe bananas. Add 2 tablespoons of each honey, olive oil, and yogurt in it. Once the smooth paste is ready you are all set for a hair mask. Apply the hair mask on the strands and then cover your hair with a shower cap. Leave the mask on for 30 minutes. Then, wash off your hair using shampoo and condition it. Repeat the treatment twice a week to get a perm out of your hair.
11. Honey
Honey is a healthy sweetener. But, this superfood has benefits beyond your kitchen walls. Honey is an exceptional ingredient for skin and hair care purposes.
From ancient times onward people have been using honey for many skins and hair disorders. Honey is a natural moisturizer. It is full of vitamins, nutrients, minerals, antioxidants, and antibacterial properties.
Honey is one of the natural solutions to get rid of a perm of your hair. Here's a wonderful honey hair relaxer recipe to undo a perm.
Try this honey hair mask to get rid of perm:
Pour 1 cup of honey, ½ cup of lemon juice, and ½ cup of olive oil into a bowl and mix them well. Now apply the hair mask to your permed hair. Keep the mask on the hair for 30 minutes. Wash off your hair using shampoo. Repeat the treatment three to four times a week to straighten permed hair.
Read More: How to Use Honey and Cinnamon for Cold
12. Cocoa Butter
Cocoa butter is a superb hair care ingredient. It provides your hair with silkiness and a delicious aroma. You will definitely have a hard time trying not to touch or smell such healthy hair.
Cocoa butter is a natural emollient. Thus, it can moisturize and soften your rough and bristle-like hair. Once your hair regains its natural softness, the curls or perms will lose off on their own.
Cocoa butter has some other benefits for a healthy hair life. It helps in hair growth, reducing hair breakage, and strengthening your hair.
It's easy to grab a good jar of cocoa butter from any supermarket. Here's how you should proceed with a cocoa butter hair treatment to remove a curly perm faster.
How to relax a perm using cocoa butter:
Massage your entire hair with cocoa butter. Cover your hair with a towel. Let the hair relax for 20 minutes. Now, wash off your hair using a good shampoo. Repeat the treatment every alternative day to get back a natural perm-free hair.
Click here to buy cocoa butter
Bottom Line
If you want your hair straight again, use these natural and safe remedies to get rid of a perm fast.
Getting a perm can make your hair look stunning indeed. But, not always can your perm turn out good.
In order to make sure your perm does not go "bad," you should check with your hairstylist before getting it.
Read More: 10 Reasons Why You Should Use Shea Butter For Hair